Hakluyt Society Collection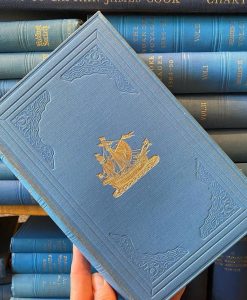 This Just In: a few dozen titles published by The Hakluyt Society.
"Since its foundation in 1846, the Hakluyt Society has been centrally concerned with the publication of scholarly editions of primary records of voyages and travels. With some 370 volumes published, this remains our principal activity, while we now extend our work to conferences, lectures and the award of grants and prizes. The volumes, which are distributed to current members, are illustrated with maps and plates and are widely prized for their standards of scholarship and book production." – from the society's website.

Note: Listed items are subject to prior sale.
1. Agnarsdottir, Anna (edited and annotated with an introduction by). Sir Joseph Banks, Iceland and the North Atlantic 1772-1820 / Journals, Letters and Documents. London: Hakluyt Society, 2016. 1st edition. pp. xxvi, 681. Heavy 8vo. Unmarked and in near fine condition in like dust jacket. Hardcover.
ISBN 9781908145147 (#9900044866) $125.00
2. Andrews, Kenneth R.; ed. English Privateering Voyages to the West Indies / 1588-1595 / Documents relating to English voyages to the West Indies, from the defeat of the Armada to the last voyage of Sir Francis Drake, including Spanish documents contributed by Irene A. Wright. Cambridge: Printed for the Hakluyt Society at the Cambridge University Press, 1959. pp. xxvii, 421. 8vo. Bound in sky-blue cloth with lettering and decoration in gilt and blind. Maps and illustrations present as called-for. Some edgewear, bookplate to front free endpaper, satin pagemarker taped to rfep, thumbing to pages; very good. Hardcover.
Works issued by The Hakluyt Society, Second Series, Part 2, No. 111. "Documents, some summarized entirely or in part, relating to twenty-five voyages, drawn mainly from the records of the High Court of Admiralty, with selections from narratives printed by Hakluyt and from a quantity of translations by I. A. Wright of originals (1593-5) in the Archivo General de Indias in Seville intended for a further volume on English West Indies Voyages (see Second Series 66, 71 and 99 above). The Introduction gives an account of the Court itself and of privateering during the Spanish war and in the West Indies." (#068907) $25.00
3. Beckingham, C.F., G.W.B. Huntingford; eds. The Prester John of the Indies / A True Relation of the Lands of the Prester John / Being the narrative of the Portuguese Embassy to Ethiopia in 1520 / written by Father Francisco Alvares / The translation of Lord Stanley of Alderley (1881) (two volumes). Cambridge: Printed for the Hakluyt Society at the Cambridge University Press, 1961. pp. lvii, 321; vi, 323-617. 8vo. Bound in sky-blue cloth with lettering and decoration in gilt and blind. Maps and illustrations present as called-for. Some edgewear, bookplate to front free endpapers, pagemarkers taped to rfep, thumbing to pages; very good. Hardcover.
Works issued by The Hakluyt Society, Second Series, Part 2, No. 114 & 115. "The first 88 chapters, representing the mission of Dom Rodrigo de Lima, from his landing at Massawa on the west coast of the Red Sea in April 1520 to his re-embarking there six years later, the first European embassy known to have reached the Ethiopian court and returned in safety. Continued in the following volume, with which the main pagination is continuous. Chapters 89-142 of Álvares, with the narrative of the return to Portugal, a translation of a seventeenth-century Ethiopian description of Aksum, and accounts of the rock-cut churches at Lalibala and certain other matters." (#068910) $65.00
4. Beckingham, C.F., G.W.B. Huntingford; trans, eds. Some Records of Ethiopia / 1593-1646 / Being Extracts from The History of High Ethiopia or Abassia by Manoel de Almeida / Together with Bahrey's History of the Galla. London: Printed for the Hakluyt Society , 1954. pp. lvii, 321; vi, 323-617. 8vo. Bound in sky-blue cloth with lettering and decoration in gilt and blind. Maps and illustrations present as called-for. Some edgewear, bookplate to front free endpaper, pagemarker taped to rfep, thumbing to pages; very good. Hardcover.
Works issued by The Hakluyt Society, Second Series, Part 2, No. 107. "The selections from Almeida describe the country and its people and the journeys of Jesuit missionaries attempting to enter or leave Ethiopia." (#068911) $50.00
5. Boxer, C.R.; ed. The Tragic History of the Sea / 1589-1622 / Narratives of the shipwrecks of the Portuguese East Indiamen São Thomé (1589), Santo Alberto (1593), São João Baptista (1622) and the journeys of the survivors in South East Africa. Cambridge: Printed for the Hakluyt Society at the Cambridge University Press, 1959. pp. xiv, 297. 8vo. Bound in sky-blue cloth with lettering and decoration in gilt and blind. Maps and illustrations present as called-for. Some edgewear, bookplate to front free endpaper, satin pagemarker taped to rfep, thumbing to pages; very good. Hardcover.
Works issued by The Hakluyt Society, Second Series, Part 2, No. 112. "The narratives by Diogo do Couto, João Baptista Lavanha and Francisco Vaz d'Almada, translated from the original editions of accounts which were subsequently included in the História Trágico-Marítima edited by Bernardo Gomes de Brito at Lisbon in 1735-6. The introduction and appendices discuss the 'Carreira da Índia'" (#068908) $25.00
6. Boxer, C.R.; ed. South China in the Sixteenth Century / Being the narratives of Galeote Pereira / Fr. Gaspar da Cruz, O.P. / Fr. Martin de Rada, O.E.S.A. / (1550-1575). London: Printed for the Hakluyt Society, 1953. pp. xci, 388. 8vo. Bound in sky-blue cloth with lettering and decoration in gilt and blind. Maps and illustrations present as called-for. A handful of uncut pages, some edgewear, bookplate to front free endpaper, pagemarker taped to rfep, thumbing to pages; very good. Hardcover.
Works issued by The Hakluyt Society, Second Series, Part 2, No. 106. "Translations, the first based largely on that in Richard Willes, History of Travayle in the West and East Indies (1577), the second derived from Purchas his Pilgrimes (1624), the third by the editor from three sixteenth-century Spanish versions. With appendices on various matters, including a Chinese glossary and a table of Chinese dynasties and emperors." (#068913) $65.00
7. Christy, Miller, ed. The Voyages of Captain Luke Foxe of Hull, and Captain Thomas James of Bristol, in Search of a North-West Passage, in 1631-32; with Narratives of the earlier North-West Voyages of Frobisher, Davis, Weymouth, Hall, Knight, Hudson, Button, Gibbons, Bylot, Baffin, Hawkridge, and others (Two Volumes). London: Printed for the Hakluyt Society, 1894. pp. ccxxxi, 259; viii, 261-681. 8vo. Bound in sky-blue cloth with lettering and decoration in gilt and blind. Containing 4 of 5 maps, illustrations present as called-for. Some edgewear, spines slightly sunned, with white mark to head of volume I. Age-toning to endpapers, bookplates to ffeps, blue ribbbon page marker taped to rfeps, a few rough edges where pages have been cut carelessly by previous owner, two short and one 2″ closed tear to fold-out chart in volume I; good+. Hardcover.
Works issued by The Hakluyt Society, First Series, Part II, Nos. 88 & 89. "Containing part of the text of North-west Fox, London, 1635. This and the following volume have continuous main pagination. The supplementary material consists of the 1893 annual report…The concluding part of North-west Fox, and the text of The Strange and Dangerous Voyage of Captaine Thomas James, London, 1633, with documents relating to early voyages to Hudson's Bay and the North-West." (#068890) $350.00
8. Conway, Sir W. Martin, ed. Early Dutch and English Voyages to Spitsbergen in the Seventeenth Century, including Hessel Gerritsz. "Histoire du pays nommé Spitsberghe," 1613, Translated into English, for the First Time, by Basil H. Soulsby, F.S.A., of the British Museum; and Jacob Segersz. van der Brugge "Journael of dagh register," Amsterdam, 1634, Translated into English, for the First Time, by J. A. J. de Villiers, of the British Museum. London: Printed for the Hakluyt Society, 1902. pp. xvi, 191, 37. 8vo. Bound in sky-blue cloth with lettering and decoration in gilt and blind. Maps and illustrations present as called-for. Some edgewear, sunning to spine. Age-toning to endpapers and half-title, bookplate and small chip to ffep, blue ribbon page marker taped to rfep. Spotting to foredge; good+. Hardcover.
Works issued by The Hakluyt Society, Second Series, Part I, No 11. (#068840) $75.00
9. Cook, James; J. C. Beaglehole, ed. Journals of Captain James Cook on His Voyages of Discovery, Volume I: The Voyage of the Endeavour 1768-1771. Cambridge: Published for the Hakluyt Society by Cambridge University Press, 1955. pp. cclxxxiv, 684. Thick 8vo. Bound in navy blue cloth with gilt lettering and decoration. Maps and illustrations present as called-for. Light edgewear, light bump to spine, bookplate, small spot to foredge, short closed tear to Chart of the New Hebrides, ribbon page marker taped to rear endpaper; very good. Hardcover.
Hakluyt Society, Extra Series, No. XXXIV. (#068903) $125.00
10. Cook, James; J. C. Beaglehole, ed. Journals of Captain James Cook on His Voyages of Discovery, Volume II: The Voyage of the Resolution and Adventure 1772-1775. Cambridge: Published for the Hakluyt Society by Cambridge University Press, 1961. pp. clxx, 1021. Thick 8vo. Bound in navy blue cloth with gilt lettering and decoration. Maps and illustrations present as called-for. Light edgewear, a few white streaks to front board, bookplate, red ribbon page marker taped to rear endpapers; very good. Hardcover.
Hakluyt Society, Extra Series, No. XXXV. (#068904) $125.00
11. Cook, James; R. A. Skelton, ed. Journals of Captain James Cook on His Voyages of Discovery / Charts & Views / Drawn by Cook and his Officers and Reproduced from the Original Manuscripts. Cambridge: Published for the Hakluyt Society by Cambridge University Press, 1955. pp. viii + 58 loose maps, charts, plans, profiles, views and other illustrations. Slim folio. Bound in navy blue cloth with gilt lettering and decoration and navy ribbon tie. All maps and illustrations present as called-for. Light edgewear, bookplate to inside cover, booklet torn along fold (from having been used as a folder), a few maps show light creases; very good. Hardcover.
Hakluyt Society, Extra Series, No. XXXIVb. A separate and unnumbered portfolio containing reproductions of charts and views drawn on the three voyages, with a list. (#068905) $125.00
12. Crawford, O.G.S; ed. Ethiopian Itineraries / circa 1400-1524 / Including Those Collected by Alessandro Zorzi at Venice in the Years 1519-24. Cambridge: Printed for the Hakluyt Society at the Cambridge University Press, 1958. pp. xxix, 232. 8vo. Bound in sky-blue cloth with lettering and decoration in gilt and blind. Maps and illustrations present as called-for. Some edgewear, age-toning to endpapers and half-title, bookplate to front free endpaper, frayed pagemarker taped to rfep, thumbing to pages; very good. Hardcover.
Works issued by The Hakluyt Society, Second Series, Part 2, No. 109. "Zorzi's Italian text with translation by C. A. Ralegh Radford. Includes a gazetteer for Fra Mauro's map." (#068906) $30.00
13. Cummins, J. S. [ed.]. The Travels and Controversies of Friar Domingo Navarrete. Cambridge: Printed for the Hakluyt Society at the Cambridge University Press, 1962. pp. cxx, 163; x, 165-475. Bound in sky-blue cloth with lettering and decoration in gilt and blind. Maps and illustrations present as called-for. Light shelfwear, bookplate to ffeps, red ribbon page marker taped to rfeps, contents unmarked, binding sound; very good in good+ slightly worn and sunned dustjackets, showing minor spotting and short closed tears along top edge of volume II. Hardcover.
Works issued by The Hakluyt Society, Second Series, Part 2, No. 118 & 119. "A translation of the autobiographical portions of the Tratados Historicos, with interpolations from his unpublished 'Controversias' and other works. Describes travels in China and the outward and homeward journeys. The origin and nature of the Jesuit-Dominican controversy over the Chinese rites are summarized in the editor's Introduction. The main pagination of this and the following volume is continuous…Includes Navarrete's account of the island of Santo Domingo (1679) and appendices on various matters such as the detention of the missionaries in Canton, 1666-70, and Navarrete's relations with Richard Cony, governor of St Helena." (#068933) $30.00
14. De Veer, Gerrit, ed. The Three Voyages of William Barents to the Arctic Regions, 1594, 1595, and 1596. London: Printed for the Hakluyt Society, 1876. pp. clxxiv, 289. 8vo. Bound in sky-blue cloth with lettering and decoration in gilt and blind. 2 maps and first 4 illustrations present against 16 illustrations listed in table of contents and 12 noted in Hakluyt Society Bibliography. Some edgewear, age-toning to endpapers and half title, bookplate to ffep, blue ribbon page marker taped to rfep. Infrequent spotting to pages; good. Hardcover.
Works issued by The Hakluyt Society, First Series, Part II, No. 54. First Edition Edited by Charles T. Beke, Phil.D., F.S.A. 1853. Second Edition, with an Introduction, by Lieutenant Koolemans Beynen (Royal Netherlands Navy). 1876. (#068843) $200.00
15. Fawcett, Lady, Sir Charles Fawcett and Sir Richard Burn. The Travels of the Abbé Carré in India and the Near East / 1672 to 1674 / Three Volumes. Volume One: From France through Syria, Iraq and the Persian Gulf to Surat, Goa, and Bijapur, with an account of his grave illness; Volume Two: From Bijapur to Madras and St Thomé. Account of the capture of Trincomalee Bay and St Thomé by De la Haye, and of the siege of St Thomé by the Golconda army and hostilities with the Dutch; Volume Three: Return Journey to France / with an account of the Sicilian revolt against Spanish rule at Messina. London: The Hakluyt Society, 1947. pp. lvi, 315; xxiv, 317-675; xiii, 677-984. 8vo. Bound in sky-blue cloth with lettering and decoration in gilt and blind. Maps and illustrations present as called-for. Minor edgewear, slight spine slants, bookplate/name stamp to endpapers, blue ribbon page marker taped to rfeps, internally unmarked, bindings sound; very good. Hardcover.
Works issued by The Hakluyt Society, Second Series, Part II, No's 95, 96 and 97. Translated from the manuscript journal of his travels in the India Office by Lady Fawcett, and Edited by Sir Charles Fawcett with the assistance of Sir Richard Burn. (#068841) $100.00
16. Foster, Sir William; ed. The Red Sea and Adjacent Countries at the Close of the Seventeenth Century / As described by Joseph Pitts / William Daniel / and Charles Jacques Poncet. London: Printed for the Hakluyt Society, 1949. pp. xl, 192. 8vo. Bound in sky-blue cloth with lettering and decoration in gilt and blind. Maps and illustrations present as called-for. Some edgewear, bookplate to front free endpaper, taped-in pagemarker to rfep, thumbing to pages; very good. Hardcover.
Works issued by The Hakluyt Society, Second Series, Part 2, No. 100. "The first narrative is from Pitts' Religion and Manners of the Mahometans (3rd Edition, 1731); Daniel's journal was printed in 1702, Poncet's in 1709." (#068916) $35.00
17. Gallagher, Robert E. [ed.]. Byron's Journal of his Circumnavigation / 1764-1766. Cambridge: Printed for the Hakluyt Society at the Cambridge University Press, 1964. pp. lxxxii, 230. 8vo. Bound in sky-blue cloth with lettering and decoration in gilt and blind. Maps and illustrations present as called-for. Light shelfwear, bookplate to ffep, red ribbon page marker taped to rfep, contents unmarked, binding sound; very good in good- slightly edgeworn and sunned dustjacket, showing short closed tears and one small chip along edges. Hardcover.
Works issued by The Hakluyt Society, Second Series, Part 2, No. 122. "The voyage of the Dolphin. Includes the secret instructions by the Admiralty, a list of the crew, and transcripts of documents relating to the voyage. The appendix, on the Patagonians, includes 'The Patagonian giants' by Helen Wallis." (#069021) $20.00
18. Gibb, H.A.R. The Travels of Ibn Battuta / A.D. 1325-1354 / Volume I. Cambridge: Printed for the Hakluyt Society by the Cambridge University Press , 1958. pp. xviii, 269. 8vo. Bound in sky-blue cloth with lettering and decoration in gilt and blind. Maps and illustrations present as called-for. Slightly slanted, some edgewear, age-toning to endpapers and half-title, bookplate to front free endpaper, frayed satin pagemarker taped to rfep, thumbing to pages; very good. Hardcover.
Works issued by The Hakluyt Society, Second Series, Part 2, No. 110. Translated with revisions and notes from the Arabic text edited by C. Defremery and B.R. Sanguinetti. "Covers travels in North-West Africa, Egypt, Syria, and to Mecca." (#068900) $40.00
19. Gibb, H.A.R. The Travels of Ibn Battuta/ A.D. 1325-1354 / Volume II. Cambridge: Printed for the Hakluyt Society at the Cambridge University Press, 1962. pp. xii, 271-537. 8vo. Bound in sky-blue cloth with lettering and decoration in gilt and blind. Maps and illustrations present as called-for. Slightly slanted, some edgewear, age-toning to endpapers and half-title, bookplate to front free endpaper, frayed satin pagemarker taped to rfep, thumbing to pages; very good. Hardcover.
Works issued by The Hakluyt Society, Second Series, Part 2, No. 117. Translated with revisions and notes from the Arabic text edited by C. Defremery and B.R. Sanguinetti. "Covering southern Persia, Iraq, southern Arabia, East Africa, the Persian Gulf, Asia Minor and South Russia." (#068901) $40.00
20. Gosch, C. C. A., ed. Danish Arctic Expeditions, 1605 to 1620 /Two volume set/ Book I. The Danish Expeditions to Greenland in 1605, 1606, and 1607; to which is added Captain James Hall's Voyage to Greenland in 1612. Book II. The Expedition of Captain Jens Munk to Hudson's Bay in Search of a North-West Passage in 1619-20. London: Printed for the Hakluyt Society, 1897?. pp. cxvii, 205; cxviii, 187. 8vo. Bound in sky-blue cloth with lettering and decoration in gilt and blind. Maps and illustrations present as called-for. Some edgewear, bookplate and name stamp to endpapers, ribbon page marker taped to rfep, spotting to page edges; very good. Hardcover.
Works issued by The Hakluyt Society, First Series, Part II, No's 96 & 97. (#068838) $150.00
21. Kelly, Celsus [ed.]. La Austrialia del Espíritu Santo / The Journal of Fray Martin de Munilla O.F.M. / and other documents relating to The Voyage of Pedro Fernández de Quirós / to the South Sea (1605-1606) / and / the Franciscan missionary plan / 1617-1627 (Two Volumes). Cambridge: Printed for the Hakluyt Society at the Cambridge University Press, 1966. pp. xvii, 270; xv, 273-446. Bound in sky-blue cloth with lettering and decoration in gilt and blind. Maps and illustrations present as called-for. Light shelfwear, bookplate to ffeps, red ribbon page marker taped to rfeps, contents unmarked, binding sound; very good in good+ slightly worn and sunned dustjackets, showing short closed tears along edges. Hardcover.
Works issued by The Hakluyt Society, Second Series, Part 2, No. 126 & 127. "With ethnological introduction, appendix, and other contributions by G. S. Parsonson…The 'Relación' of Munilla, chaplain and vicar of the royal fleet and commissary of the Franciscans in the Quirós expedition, with an extensive introduction…The 'Sumario Breve' of Juan de Iturbe, followed by documents bearing on the preparations for the expedition, the voyage of Quirós, Quirós in New Spain, negotiations for another expedition, and the missionary plan. Two appendices, one by G. S. Parsonson." (#069001) $40.00
22. Letts, Malcolm, ed. Mandeville's Travels / Texts and Translations (Two Volumes). London: The Hakluyt Society, 1953. pp. lxiii, 223; xii, 226-554. 8vo. Bound in sky-blue cloth with lettering and decoration in gilt and blind. Maps and illustrations present as called-for. Some edgewear, with slight sunning to spine of volume I. Bookplates to ffeps, white ribbon page marker taped to rfeps, small crease to fold-out map; very good. Hardcover.
Works issued by The Hakluyt Society, Second Series, Part II, Nos. 101 & 102. "With additional documents. The first narrative is from Pitts' Religion and Manners of the Mahometans (3rd Edition, 1731); Daniel's journal was printed in 1702, Poncet's in 1709…The text of British Library Egerton MS 1982, with an essay on the cosmographical ideas of Mandeville's day by E. G. R. Taylor. The main pagination of this and the following volume is continuous." (#068893) $50.00
23. Letts, Malcolm, ed. The Pilgrimage of Arnold von Harff / Knight / from Cologne, through Italy, Syria, Egypt, Arabia, Ethiopia, Nubia, Palestine, Turkey, France and Spain, which he Accomplished in the years 1496-1499. London: Printed for the Hakluyt Society, 1946. pp. xxxv, 325. 8vo. Bound in sky-blue cloth with lettering and decoration in gilt and blind. Illustrations present as called-for. Some edgewear, bookplate to front endpaper, blue ribbon page marker taped to rfep, internally unmarked, binding sound; very good. Hardcover.
Works issued by The Hakluyt Society, Second Series, Part II, No. 94. (#068864) $50.00
24. Letts, Malcolm; ed. The Travels of Leo of Rozmital / through Germany, Flanders, England, France, Spain, Portugal and Italy / 1465-1467. Cambridge: Printed for the Hakluyt Society at the Cambridge University Press, 1957. pp. xii, 271-537. 8vo. Bound in sky-blue cloth with lettering and decoration in gilt and blind. Maps and illustrations present as called-for. Slightly slanted, some edgewear, age-toning to endpapers and half-title, bookplate to front free endpaper, frayed cotton pagemarker taped to rfep, thumbing to pages; very good. Hardcover.
Works issued by The Hakluyt Society, Second Series, Part 2, No. 108. "From the German account by Gabriel Tetzel, with supplementary passages from the Latin versions (printed in 1577, 1843 and 1951) of the lost account in Czech by Václav Sasek, both having been Rozmital's companions." (#068902) $25.00
25. Lynam, Edward, ed. Richard Hakluyt & his Successors / A Volume Issued to Commemorate the Centenary of the Hakluyt Society. London: The Hakluyt Society, 1946. pp. lxviii, 192. 8vo. Bound in sky-blue cloth with lettering and decoration in gilt and blind. Plates present as called-for. Some edgewear, with faint creasing to spine. Bookplate and ink notation to front pastedown, blue ribbon page marker taped to rfep, a few rough edges where pages have been cut carelessly by previous owner, binding sound; very good-. Hardcover.
Works issued by The Hakluyt Society, Second Series, Part II, No. 93. "Containing: (i) 'Richard Hakluyt, by J. A. Williamson, D.Lit.', (ii) 'Samuel Purchas, by Sir William Foster, C.I.E.' (iii) 'English Collections of Voyages and Travels 1625-1846, by G. R. Crone and R. A. Skelton', (iv) 'The Hakluyt Society. A Retrospect 1846-1946, by Sir William Foster, C.I.E.' [on the Contents page 'The Hakluyt Society, 1846-1946. A Retrospect'] (v) 'The Present and the Future [of the Society], by Edward Lynam, D. Litt.' Also a prospectus with lists of publications, select maps, and members, the Laws of the Hakluyt Society, and an 'Index to the Society's publications, 1847-1946'." (#068857) $15.00
26. Major, Richard Henry, ed. The Canarian, or, Book of the Conquest and Conversion of the Canarians in the Year 1402, by Messire Jean de Béthencourt, Kt., Lord of the Manors of Bethencourt, Reville, Gourret, and Grainville de Teinturière, Baron of St. Martin le Gaillard, Councillor and Chamberlain in Ordinary to Charles V and Charles VI, composed by Pierre Bontier, Monk, and Jean le Verrier, Priest. London: Printed for the Hakluyt Society, 1872. pp. lv, 229. 8vo. Bound in sky-blue cloth with lettering and decoration in gilt and blind. Maps and illustrations present as called-for, plus tissue-guarded frontispiece. Some edgewear, sunning and faint creasing to spine. Age-toning to endpapers and half title, bookplate to front free endpaper, blue ribbon page marker taped to rfep, a few rough edges where pages have been cut carelessly by previous owner; very good. Hardcover.
Works issued by The Hakluyt Society, First Series, Part I, No. 46. (#068844) $125.00
27. Markham, Clements R., ed. Book of the Knowledge of All the Kingdoms, Lands, and Lordships that are in the World, and the Arms and Devices of each Land and Lordship, or of the Kings and Lords who possess them. Written by a Spanish Franciscan in the Middle of the XIV Century. Published for the First Time / with Notes by Marcos Jiménez de la Espada, in 1877. London: Printed for the Hakluyt Society, 1912. pp. xiii, 85, xxxvi. 8vo. Bound in sky-blue cloth with lettering and decoration in gilt and blind. Colour plates present as called-for. Some edgewear, age-toning to endpapers, bookplate to front free endpaper, blue ribbon page marker taped to rfep. Internally unmarked, binding sound; very good. Hardcover.
Works issued by The Hakluyt Society, Second Series, Part I, No. 29. (#068845) $50.00
28. Markham, Clements R., ed. The Voyages of Sir James Lancaster, Kt., to the East Indies, with Abstracts of Journals of Voyages to the East Indies, during the Seventeenth Century, preserved in the India Office. And the Voyage of Captain John Knight (1606), to seek the North-West Passage. London: Printed for the Hakluyt Society, 1877. pp. xxii, 314. 8vo. Bound in sky-blue cloth with lettering and decoration in gilt and blind. Some edgewear, with light scuffing to spine and bumping to bottom corner of covers and text block. Age-toning to endpapers and half title, bookplate to ffep, blue ribbon page marker taped to rfep. A few rough edges where pages were cut carelessly by previous owner. Faint foxing throughout; very good-. Hardcover.
Works issued by The Hakluyt Society, First Series, Part II, No. 56. (#068842) $200.00
29. Markham, Clements R., ed. The Voyages of William Baffin, 1612-1622. London: Printed for the Hakluyt Society, 1881. pp. lix, 192. 8vo. Bound in sky-blue cloth with lettering and decoration in gilt and blind. Maps and illustrations present as called-for. Some edgewear, bookplate and two closed tears to front endpaper, ribbon page marker taped to rfep, foxing to frontispiece, 2″ closed tear to fold-out chart, internally unmarked, binding sound; very good. Hardcover.
Works issued by The Hakluyt Society, First Series, Part II, No. 63. "From narratives and journals by John Gatonbe, Robert Fotherby, and others, with Baffin's letters, journals, and other observations, and various treatises on the probability of a North-West Passage." (#068839) $300.00
30. Nuttall, Zelia, ed. New Light on Drake / A Collection of Documents relating to his Voyage of Circumnavigation, / 1577-1580. London: Printed for the Hakluyt Society, 1914. pp. lvi, 443, xxxvi. 8vo. Bound in sky-blue cloth with lettering and decoration in gilt and blind. Maps and illustrations present as called-for. Some edgewear, age-toning to endpapers and half-title, bookplate to front free endpaper, blue satin pagemarker taped to rear pastedown, short closed tear to frontispiece, thumbing to pages; very good. Hardcover.
Works issued by The Hakluyt Society, Second Series, Part I, No. 34. "Spanish official documents, depositions by prisoners, documents relating to Nuño da Silva, etc." (#068853) $65.00
31. Quinn, David Beers, ed. The Roanoke Voyages / 1584-1590 / Documents to illustrate / the English Voyages to North America / under the Patent granted / to Walter Raleigh / in 1584 (Two Volumes). London: Cambridge University Press for the Hakluyt Society, 1955. pp. xxxv, 496; vi, 497-1004. 8vo. Bound in sky-blue cloth with lettering and decoration in gilt and blind. Maps and illustrations present as called-for. Slightly shaken, some edgewear, bookplates to front free endpapers, red ribbon page marker taped to rear free endpapers, internally unmarked; very good-. Hardcover.
Works issued by The Hakluyt Society, Second Series, Part II, Nos. 104 & 105. "Texts from Hakluyt's Principall Navigations (1589), together with the items added by him in 1600 and much additional material, a few documents in summary form. This volume takes the narrative to January 1586/7 and includes a descriptive list of John White's drawings of the first colony; the narrative is continued to 1590 and later in the following volume, with which the main pagination is continuous…Appended is an article on the language of the Carolina Algonkian tribes by James A. Geary, with a word-list; a chapter on the archaeology of the Roanoke settlements; a detailed account of the MS and printed sources; and (in pocket) a map of Ralegh's Virginia. Incorrectly numbered 104 on half-title" (#068879) $65.00
32. Taylor, E. G. R. [ed.]. A Regiment for the Sea / and other Writings on Navigation / by William Bourne of Gravesend, a Gunner (c. 1535-1582). Cambridge: Printed for the Hakluyt Society at the Cambridge University Press, 1964. pp. xxxv, 464. 8vo. Bound in sky-blue cloth with lettering and decoration in gilt and blind. Maps and illustrations present as called-for. Light shelfwear, bookplate to ffep, red ribbon page marker taped to rfep, contents unmarked, binding sound; very good in good- slightly edgeworn and sunned dustjacket, showing short closed tears along edges with clear tape affixed to front panel. Hardcover.
Works issued by The Hakluyt Society, Second Series, Part 2, No. 121. " Reprints Bourne's two almanacks and the Regiment (1574). Appended are the surviving portion of John Dee's navigational tables, the wills of Bourne and his wife, and a bibliographical description of Bourne's manuscript and printed works by D. W. Waters and R. A. Skelton." (#069023) $20.00
33. Taylor, E.G.R.; ed. The Troublesome Voyage of Captain Edward Fenton / 1582-1583 / Narratives and Documents. Cambridge: Printed for the Hakluyt Society at the Cambridge University Press, 1959. pp. lvii, 333. 8vo. Bound in sky-blue cloth with lettering and decoration in gilt and blind. Maps and illustrations present as called-for. Some edgewear, bookplate to front free endpaper, satin pagemarker taped to rfep, thumbing to pages; very good. Hardcover.
Works issued by The Hakluyt Society, Second Series, Part 2, No. 113. "Transcripts of certain surviving records of the voyage for Cathay sponsored by the Privy Council and intended to establish the first English trading base in the Far East. Includes Fenton's own sea journal and extracts from the official narrative of Richard Madox." (#068909) $20.00
34. Wallis, Helen [ed.]. Carteret's Voyage Round the World / 1766-1769 (Two Volumes). Cambridge: Printed for the Hakluyt Society at the Cambridge University Press, 1965. pp. xii, 273; vi, 275-564. Bound in sky-blue cloth with lettering and decoration in gilt and blind. Maps and illustrations present as called-for. Light shelfwear, bookplate to ffeps, white ribbon page marker taped to rfeps, contents unmarked, binding sound; very good in good- slightly edgeworn, spotted and sunned dustjackets, with clear tape affixed to spines, creasing, two short and one 1″ closed tear to volume II. Hardcover.
Works issued by The Hakluyt Society, Second Series, Part 2, No. 124 & 125. "Derived from the abstract retained by Philip Carteret after his voyage and the journal he compiled from it and other papers in about 1773…A collection of documents, 1756-1811, relating to the preparations, to the voyage itself, and to its aftermath." (#069004) $30.00
35. Wallis, Helen [ed.]. Missions to the Niger / The Journal of Friedrich Horneman's Travels from Cairo to Murzuk in the Years 1797-98 / The Letters of Major Alexander Gordon Laing, 1824-26 / The Bornu Mission 1822-25 / Parts I-III (Four Volumes). Cambridge: Printed for the Hakluyt Society at the Cambridge University Press, 1964-1966. pp. xii, 406; xiv, 306; xii, 309-595; x, 599-798. Bound in sky-blue cloth with lettering and decoration in gilt and blind. Maps and illustrations present as called-for. Light shelfwear, minor spotting/scuffing to volume I, slight bump to rear board on volumes II and IV. Bookplate to ffeps, with ribbon page markers of various colours and materials taped to rfeps, contents unmarked, binding sound; very good in good, slightly worn, spotted and sunned dustjackets, showing short, closed tears along edges. Hardcover.
Works issued by The Hakluyt Society, Second Series, Part 2, Nos. 123, 128-130. "With Laing's letters are included his 'Cursory remarks on the course and termination of the great river Niger', his 'Notes on Gadamis', his only surviving letter to his wife, and the newspaper report of his death…the Narrative of Travels and Discoveries in Northern and Central Africa in the years 1822, 1823, and 1824 by Major Denham, Captain Clapperton and the late Doctor Oudney (2nd edition, 1826)…Includes previously unpublished documents relating to the mission. Each volume contains a glossary of Arabic terms." (#069007) $50.00
36. Williamson, J. A. [ed.]. The Cabot Voyages and Bristol Discovery under Henry VII / With Cartography of the Voyages by R. A. Skelton. Cambridge: Printed for the Hakluyt Society at the Cambridge University Press, 1962. pp. xvi, 332. 8vo. Bound in sky-blue cloth with lettering and decoration in gilt and blind. Maps and illustrations present as called-for. Erratum laid in at ffep. Light shelfwear, bookplate to ffep, red ribbon page marker taped to rfep, contents unmarked, binding sound; very good in good, slightly edgeworn and sunned dustjacket, showing short closed tears along edges. Hardcover.
Works issued by The Hakluyt Society, Second Series, Part 2, No. 120. "Documents from English, Portuguese, and Spanish archives, transcribed or in translation, and from printed sources, relating to the Atlantic voyages out of Bristol between 1480 and 1508-9; including the voyages of John and Sebastian Cabot." (#069040) $20.00
37. Wright, Irene A.; trans., ed. Further English Voyages to Spanish America / 1583-1594 / Documents from the Archives of the Indies at Seville illustrating English Voyages to the Caribbean, the Spanish Main, Florida, and Virginia. London: Printed for the Hakluyt Society, 1951. pp. xciii, 314. 8vo. Bound in sky-blue cloth with lettering and decoration in gilt and blind. Maps and illustrations present as called-for. Some edgewear, bookplate to front free endpaper, ink owner's stamp and taped-in pagemarker to rfep, thumbing to pages; very good. Hardcover.
Works issued by The Hakluyt Society, Second Series, Part 2, No. 99. (#068915) $30.00
38. Wright, Louis B.; Virginia Freund; eds. The Historie of Travell into Virginia Britania (1612) / by William Strachey, gent. London: Printed for the Hakluyt Society, 1953. pp. xxxii, 221. 8vo. Bound in sky-blue cloth with lettering and decoration in gilt and blind. Maps and illustrations present as called-for. Some edgewear, bookplate to front free endpaper, taped-in pagemarker to rfep, thumbing to pages; very good. Hardcover.
Works issued by The Hakluyt Society, Second Series, Part 2, No. 103. "Transcript of the Princeton MS, with Strachey's vocabulary of an Algonkian dialect and an essay on the same by James A. Geary." (#068917) $25.00