Leave a Want: Find What You Want to Read
Introducing "Leave a Want," the search tool that will help connect you to all the titles you want to read!
As a second-hand bookstore, we never know what will come through the door. We add
hundreds of new titles to our inventory every week, including ultra-niche ephemera, antique
storybooks, and newly published fiction. Once these titles are gone, there is no saying when we will
see another copy again.
This serendipity is all part of the thrill of a used bookstore! However, if you come in looking for a
certain title and we don't have it on the shelves, you are not out of luck just yet.
Leave a want on our site and you will be automatically notified if we add that title to our
inventory in the future.
Leaving a want it easy, just follow these steps:
1. Go to bisonbooks.ca

2. Click "Our Stock"

3. Scroll to the very bottom of the page

4. Click "Leave a want"

5. Fill out the want form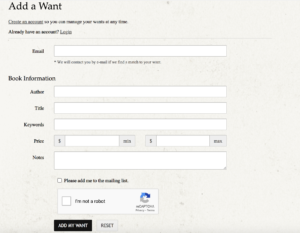 You can include as much information as you want—including keywords, price range, and notes
to ensure you get the exact copy you're looking for.
You will be notified by email if the book you want is added to our stock.
You can even create a Bison Books account so you can manage your wants.
Tackle Your To-Read List
You don't have to choose between shopping second-hand and owning the books you want to read. Be it
an out-of-print story from your childhood or the newest lit everyone is talking about, our
shelves see it all and you can be the first to know when they do.