How to Sell Us Your Books
We're constantly buying new books from local bibliophiles and serendipitously rehoming them to readers around the world. Looking to sell your books to us? Thanks to our careful process, we can make sure this exchange is a win for both you and the future buyer.
Follow along with this blog post to understand our purchasing process.  Knowing these steps will help make the sale go smoothly, so you can get bucks for your books and see that your beloved reads go to a good home.
The Process…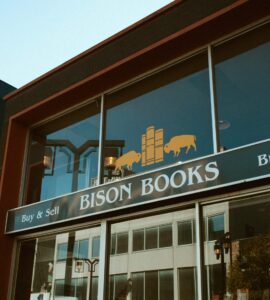 Contact us
We're always buying books—but that doesn't mean we're buying 24/7, 365. If you want your books evaluated on the spot when you arrive, or if you have more than a box or two to bring in, please make an appointment first, by calling us at 204-947-5931, or booking into our online calendar.
This way, you won't do all that work only to be disappointed to find that the buyer is out of the office. With a little heads-up, we can make room for your boxes and save you from schlepping items we're not prepared to take off your hands.
If you'd like to sell your books to us but aren't in Winnipeg, we're happy to connect over the phone or email to facilitate a long-distance sale.
Show Us What You've Got
If you have a large number of books to sell, we encourage you to take a good-quality photo of the spines and email it to [email protected]. From there, we can let you know which titles we are interested in looking at.
We don't buy:
Romance novels
Textbooks of any kind
Paperbacks in poor condition
Magazines
Etc.
Please note: If we are intrigued by a book and ask you to bring it in, it doesn't necessarily mean we will buy it from you. We must inspect the book's condition in person.
We are grateful to receive many offers of books every week, and this means that, in order not to be overrun, we have to be very selective! We are looking for good books, in good condition, which will sell well in the contemporary marketplace.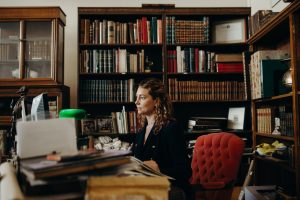 Connect with Aimee
Meet our buyer: Aimee Peake is the owner and buyer at Bison Books. She is Vice President of the Antiquarian Booksellers Association of Canada, thereby an affiliate of the International League of Antiquarian Booksellers, and adheres to the ILAB Code of Ethics.
Aimee will evaluate your books based on rarity, condition, demand, historical significance, and a number of other factors. Then, she'll give you her offer. We always offer our best price, and Aimee is happy to explain her pricing philosophy. This process is one of mutual respect and consideration.
Aimee can also make house calls (we come to you!) and provide appraisals (we tell you what your books are worth but don't buy them from you. We charge for this service by the hour). Contact us for more information about these services.
Sold!
In exchange for your books, we can offer cash or trade credit. If you choose trade credit, you can use it immediately or make a note of it in your customer profile to use in the future. Credit does not expire.
If there are books we are not interested in buying, you must take them with you. We recommend dropping them off at a little free library, thrift store, or firehall.
Good to Know:
Bring your books through the front door. There is a loading zone directly in front of us, where you can park for 15 mins. You cannot park in the lane alongside our building.
We do not buy books directly from publishers or independent authors.
Skim through your books and remove any personal items. While it often brings us joy to come across plane tickets, photos, and lusty letters, we would hate for you to lose something you didn't mean to give away.
Thank you for trusting us with your books and for supporting local. We hope to see you in the shop soon!