Short List: Horror & Hope
In compiling a list of items for the Antique Shows Canada Virtual Fair, I had no theme in mind. As usual when populating a Book Fair booth, I started with the last couple of weeks' acquisitions, and filled in with some gems from the stacks.
It turns out the selections follow a timely theme: Horror & Hope. Likely the pandemic years have overtaken my subconscious.
Or, maybe it's because, even in a city where we can regularly boast of temperatures colder than Mars, it has been an unusually frigid winter. Lately, it has been too cold for clouds, allowing the sun its full glory, making the snow sparkle like a kindergarten art project; but the slightest breeze is a slap in the face. Persistence of this stark cold, and the attendant citywide quiet, renders me moonstruck.
Or, maybe it's the ludicrous amount of snow we have on the ground: the third most since 1872, according to those who keep such records. The roadside snowbanks are 8-10+ feet high and just as wide, obscuring the view of anything past, and turning the city into a surreal maze of tunnels. (Forget jaywalking.)
Or, maybe it's my general proclivity for oddities such as these?
In any case, the list which follows boasts of brevity, and items in an attainable price range, for the most part.
The list touches on Ukraine, slavery, music, addictions recovery, Indigenous history, Stephen King, war, poetry, and clouds; and wraps up with a compendium of cartoons about hallucinatory dreams brought on by intemperate bedtime snacks of Welsh rarebit.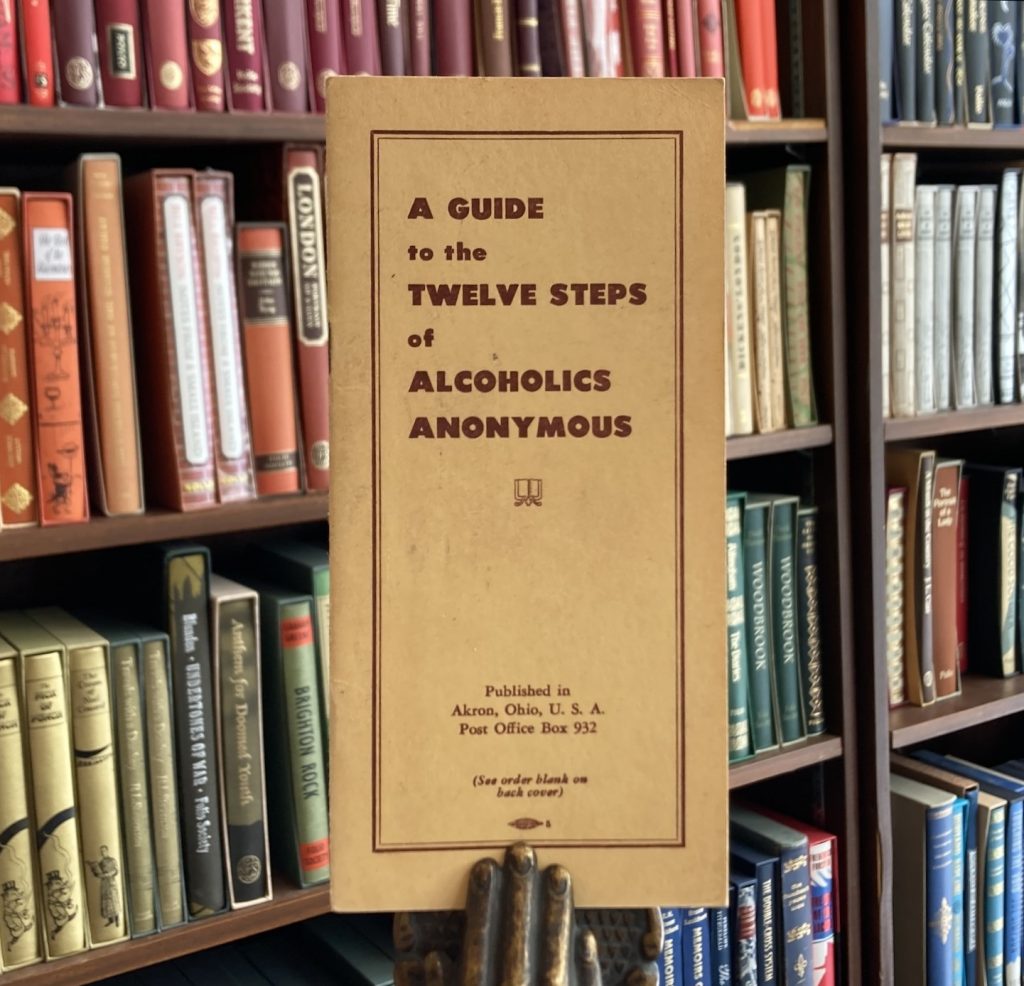 1. Carawan, Guy and Candie (recorded by). Ain't you got a right to the tree of life? The People of Johns Island, South Carolina – their faces, their words and their songs. New York: Simon & Schuster, 1966. First printing. pp. 186. 4to. Black and white photographs. Some soiling, scuffing and creasing to covers; good. Paperback.
Preface by Alan Lomax. Photos by Robert Yellin. "This book is a light for the South and for America. It tells the truth in a new way, for in it a whole community can be seen and heard and almost touched, and the lives and songs of many people come together to form a noble and unified statement of need and growth." (#074124)                        $150.00
2. [Anonymous][Ambrose Serle]. The Happy Negro and two other vignettes. [USA], ND (ca.1825). p. 8.12mo. An original stitched printed pamphlet. Shows some foxing, edges chipped and corners turned. Bottom half of last page absent, not affecting the completeness of these three vignettes. Stitched pamphlet.
A four page vignette of an Englishman and a Negro engaging in conversation as they walk along a road. The text tells how this English gentleman, walking in rural New York, meets a Negro on the road. 'I wished him to tell me whether his state of slavery was not disagreeable to him. 'Massa' said he.'I have a wife and children; my Massa take care of them and I have no care to provide any thing; I have a good Massa who teach me to read'. No author is shown but it was Ambrose Serle, one of the British under-secretaries of state for the colonies. According to the Dictionary of national Biography, he went to America in 1774, and accompanied the British army from 1776 to 1778.' DNB XVII, p. 1192. No date publication is shown but it appears to be about 1825, suggesting that this is a very early reprint, possibly published by the American Religious Tract Society. Included are two other vignettes: 'On Vital Religion' and 'The Profligate Reclaimed'. (#9900044889)                      $100.00
3. Allen, James; Hilton Als; Congressman John Lewis; Leon F. Litwack. Without Sanctuary Lynching Photography in America. Santa Fe, NM: Twin Palms Publishers, 2008. ISBN: 0-944092-69-1. pp. 209. Royal 8vo. Bound in black cloth with black lettering to spine and rear board. Decorated endpapers. Colour photographs. Light shelfwear; very good in lightly rubbed; very good- dustjacket. Hardcover.
"These photographs bear witness to the hangings, burnings, castrations, and torture of an American holocaust." – John Lewis. A truly shocking and appalling testament: not for the faint of heart. (#074123)               $200.00
4.  [Members of Alcoholics Anonymous of Akron, Ohio, "A. A. Group #1"]. A Manual for Alcoholics Anonymous [The Akron Manual]. Fifth revised edition. pp. 29. 19 x 9 cm. Pale blue-green cover with brown lettering to cover, and Union label at bottom. Cover sunned with a few spots, staples a bit corroded, contents clean and crisp and complete, with coupons to mail in for additional copies included at the end. Stapled Wraps.
Rare. Ends with a summary of the Twelve Steps, and a list of suggested reading. (#074104)                       $300.00
5. [Members of Alcoholics Anonymous of Akron, Ohio, "A. A. Group #1"]. A Guide to the Twelve Steps of Alcoholics Anonymous. Akron, Ohio, ca. 1940s. pp. 16. 19 x 9 cm. Pale yellow cover with brown lettering to cover, and Union label at bottom. Cover sunned with a few spots, staples a bit corroded, contents clean and crisp and complete, with coupons to mail in for additional copies included on the rear cover. Stapled Wraps.
A straightforward explanation of the twelve steps, written to simplify the contents of the Big Book, for a wider audience. (#074118)               $300.00
6. Alcoholics Anonymous. An Interpretation of The Twelve Steps of the Alcoholics Anonymous Program. Minneapolis, Minnesota: Coll-Webb Company, 1948. pp. 123. 12mo. Bound in burgundy cloth. Corners bumped, edges rubbed, ink name to endpapers; good. Hardcover.
The "Little Red Book" provides a summary of the recovery program outlined in the "Big Book"; and came from a series of notes originally prepared for the instruction of beginners, and as a source of ideas for meetings. (#074132)                    $300.00
7.  [Alcoholics Anonymous Edmonton Alberta]. Daily Tips for Old and New Members. Edmonton, AB. Single leaf, unfolded, measuring 14 x 15.5 cm. Pamphlet. (#074106)                      $40.00
8. [Dominion of Canada]. Schedule of Indian Reserves in the Dominion Supplement to Annual Report of the Department of Indian Affairs for the Year Ended June 30 1902. Ottawa, 1902. pp. 93. 8vo. Cover missing, exposing staples. Some dog-earing (minor, considering), age-toned, contents unmarked, binding sound. Paperback.
Sessional Paper No. 27a. A listing of the Indian Reserves in Nova Scotia, PEI, New Brunswick, Quebec, Ontario, Manitoba and NWT, Yukon, and British Columbia (comprising pg 22-93). Includes variable information from one area to the next, including Agency giving number, name, where situated, tribe or band, area in acres/miles, and remarks. Index to Schedule of Indian Reserves in BC,being an alphabetical list of Tribe/Band Agencies. (#067302)               $300.00
9. Hamilton, T. M.; Nancy Bagby (Ed.). Native American Bows. York, PA: George Shumway Publishers, 1972. ISBN: 087387. pp. xiii, 148. 8vo. White lettering and decoration to spine and front board. Black and white illustrations. Light shelfwear, minor cocking to spine, slight bumping to spine ends and corner of rear board, rubbing to extremities; very good-. Hardcover.
"1250 copies case bound". (#073045)             $100.00
10. Roberts, Helen H. and Diamond Jenness. Eskimo Songs / Report of the Canadian Arctic Expedition 1913-18, Volume XIV Songs of the Copper Eskimos. Southern Party 1913-16. Ottawa. pp. 506. 8vo. Bound in half green leather over green cloth boards. Gilt-lettered red leather spine label, 5 raised bands to spine. Some scuffing to edges, spine a bit sunned, light foxing, name stamp, contents unmarked, binding sound. Leather Bound.
Songs discussed herein were recorded between 1914 and 1916 at and around Bernard Harbour. This is a relatively common title, but this copy is in a lovely leather binding, while most are paperbacks. (#072213)             $50.00
11. King, Stephen & Richard Chizmar [Ben Baldwin & Keith Minnion, illustrations]. Gwendy's Button Box. Baltimore, Maryland: Lonely Road Books, 2018. Limited edition. 8vo. Sharkskin-grey binding with gold and blue lettering, ribbon page marker, illustrations throughout. In matching tray case box, with velvety interior, and Lonely Road Books King/Chizmar coin. Hardcover.
238 of 350 copies, signed by both authors and both artists. "Fine binding, two color printing throughout the book, a color frontispiece by Ben Baldwin, eight to ten interior illustrations by Keith Minnion, a sewn-in ribbon page marker, and an illustrated signature sheet signed by STEPHEN KING and RICHARD CHIZMAR, all housed in a custom deluxe traycase with pullout ribbon featuring a NUMBERED custom-minted coin minted in nickel". – Lonely Road website. (#074231)                     $1,750.00
12. King, Stephen [Vincent Chong, illustrations]. The Shining: Gift Edition. Burton, MI: Subterranean Press, 2013. pp. 496. Royal 8vo. Bound in blue cloth with silver lettering to spine, decorated endpapers, illustrated throughout; in matching blue cloth slipcase with silver lettering and decoration. Faint spot to front board, minor rub to front panel of dustjacket, light rubbing to slipcase; near fine. Hardcover. (#074229)              $400.00
13. King, Stephen [Don Maitz & Glenn Chadbourne, illustrations]. The Shining: The Deluxe Special Edition. Forest Hill, MD: Cemetery Dance Publications, 2016. ISBN: 9781587675300. pp. 551. Royal 8vo. Bound in navy leatherette, with green and gold lettering to spine and front board, decorated endpapers, ribbon page marker, many full-page colour illustrations; gorgeous dustjacket; navy leatherette clamshell box with green and gold lettering to spine and front board, and a velvety lining. No detectable flaws; each component remains crisp and unmarred. Hardcover.
Deluxe Signed & Traycased Artist Edition. No. 645 of 750 copies. Signed by Maitz and Chadbourne. (#074228)                        $750.00
14. King, Stephen [Glenn Chadbourne illustrations]. The Colorado Kid. Hornsea, UK: PS Publishing, 2007. Limited edition. ISBN: 9781905834099. pp. 179. 8vo. Blue cloth binding with white lettering to spine, decorated endpapers, ribbon page marker, colour illustrations. Blue cloth slipcase with white lettering. No detectable flaws to any component. Hardcover.
Introduction by Charles Ardai. No. 134 of 150 copies, signed by Stephen King, Charles Ardai, and Glenn Chadbourne. (#074093)                      $500.00
15. Khasevych, Nil – ìBey-Zotî and his disciples. Ukrainian Underground Art: Album of the woodcuts made in Ukraine, in 1947-1950. Philadelphia, PA: 'Prolog', 1952. pp. 69. 4to. Bound in original blue buckram with title embossed on board. Statement on the copyright page says: 'First copies of the woodcuts are kept in the archives of the Foreign Delegation of the Supreme Ukrainian Liberation Council (UHVR).' Preliminary text of 22 pages contains six articles (in English and Ukrainian facing) about the struggle for artistic freedom against Soviet repression and censorship. Remaining pages contain the illustrations, very nicely reproduced (often in more than one colour), with details underneath of subject and date engraving created. Corners bumped, slightly musty aroma; else clean, tightly-bound and in very good condition.
Very scarce item: WorldCat shows only three institutional holdings (National Library of Scotland, Dutch Defence Library, and University of Newcastle, Australia). Hardcover.
Khasevych was born into a poverty-striken family in the little Ukrainian village of Volynia in 1906. In 1926, he studied painting and graphic arts at the Academy of Arts in Warsaw. In 1932, he graduated with a teaching diploma but, being Ukrainian, he could not find work so he began specializing in woodcutting and Ukrainian calligraphy. In 1937, four of his woodcuts for bookplates won a prize at the International Exhibition of Woodcuts in Warsaw. During World War Two, Khasevych returned to the Ukraine and joined the Ukrainian Insurgent Army (UPA), fighting both the Nazis and the Soviets. He produced numerous woodcuts during and after the war which were highly politicized and critical of the two repressive regimes, and for the production of which he was subject to prosecution and puinishment. He died in 1952. (#9900041837)                 $400.00
16. Urban, Sylvanus. Gentleman's Magazine: and Historical Chronicle. Volume IX. For the Year M.DCC.XXXIX. London: Edw. Cave, 1739. pp. [2], 698, Index. 8vo. 20th century rebind by Lewis & Harris Bookbinders, Bath, UK. 1/2 caramel-coloured morocco over cloth boards. Gilt-lettered burgundy spine label, 5 raised bands to spine, gilt decorations in compartments. Top edge gilt (spotted), marbled endpapers. Engravings in text; one in-text and one fold-out map (some folds torn, lower corner missing). First few pages show moisture soiling, some general toning and foxing, a few scattered spots, binding sound and tight. Leather Bound.
Monthly from January to December, plus Supplement and Advertisement, Indices. Contents include matters Religious and Political; Letters to the Author; Fiction; Legal Cases; Public Papers; Medical advice; Songs; Poetry; Historical Chronicle; List of Births, Deaths, Marriages; Foreign Affairs, including the declaration of The War of Jenkins' Ear; Registers of Stocks and Books. Fold-out map shows a portion of The Russian Ukraine, from the River Dnieper to the River Don, showing "the old Limits be-tween the Russian and Turkish Em-pires", landforms, Forts, cities, etc. In-text map shows the coasts of Spain. (#058405)                     $400.00
17. 'By A Reformer of 1836' [Francis Hincks]. The Ministerial Crisis: MR. D. B. Viger, and His Position: Being a review of the Hon. Mr. Viger's Pamphlet. Kingston, ON: [Chronicle & Gazette Office], 1844. 1st printing. pp. 20. 8vo. An original stitched printed pamphlet. Pages age-toned but otherwise unmarked. Overall, in very good condition, and a scarce item.  Stapled Wraps.
Denis-Benjamin Viger (1774-1861) was a 19th-century politician, lawyer, businessman, and Patriote movement member from Lower Canada. He was born in Montreal and his father had represented the Montreal East district in the Legislative Assembly of Lower Canada from 1796 to 1800. In 1808, Viger married, and he was elected to the Legislative Assembly for Montreal East in 1808 and 1810, then in Leinster in 1810 and 1814 and in Kent in 1816, 1820, 1824, and 1827. Prominent in the Patriote movement and denounced as the owner of seditious newspapers, Viger was imprisoned in 1838 when martial law was imposed in Lower Canada. He refused to post bail to protest the enforcement of martial law and demanded a regular trial. Consequently, he was not released until May 1840. In 1841, he was elected to the Legislative Assembly of the United Canadas. From December 12, 1843 to June 17, 1846 he was one of the joint premiers of the Province of Canada. Viger died in Montreal in 1861. When this pamphlet was published, Viger was one of the Canada's 'joint' Prime Ministers. There was at that time considerable discontent amongst French Canadians that he had abandoned their interests by acquiescing in the authority of the Governor-General appointed by the British. He sought to defend his actions in pamphlet form, which prompted this 'anonymous' response, actually written by Francis Hincks (1807-1885). 'Printed and sold at the Chronicle & Gazette Office, Kingston, 1844'. (#9900044888)                        $150.00
18. Bryce, Rev. George. Problems of Greater Canada, Being an Inaugural Address. Winnipeg, MB: Manitoba Free Press Printers, 1895. 1st printing. pp. 8. 8vo. Pamphlet format in original printed paper covers. Early oval rubber stamp of The University of Manitoba Library to one margin of cover. Spine neatly reinforced, small chips to edges, marginal discolouration at top of pages. Overall, in good condition. Scarce item. Wraps.
The subject matter of this pamphlet is delineated at the top of page 1: 'Settlement of Our Vacant Lands – Methods of Immigration – The Unifying of the Various Elements of the Population; the Free Public School the Chief Agent in this. 'Published by the Manitoba College Literary Society, of which Rev. Bryce was the Honorary President. Peel 2191. (#9900041826)             $125.00
19. Paterson, Major R. A. A History of the 10th Canadian Infantry Brigade [A Short History The Tenth Canadian Infantry BDE – cover title]. Privately Printed, [1945]. pp. 78. Maps. Minor spotting to rear cover, light shelfwear, binding sound, contents clean and unmarked; remarkably crisp, overall very good. Paperback.
Printed by De Jong & Co., Hilversum (Netherlands). OCLC 44938670: "Written by the author in his capacity as historian of the brigade." Cooke p. 261. Scarce. With Appendix listing the Brigade's officers and their nominal roles, compared across four dates; also unit casualty states, and lists of decorations. (#073837)                 $200.00
20. Curry, Manfred; Louis Breguet (Preface). A Travers Les Nuages. Paris: Arts Et Metiers Graphiques, ND . pp. 99. 4to. Bound in greyish cloth with dark blue lettering to spine and boards. Black and white photographs and illustrations. Some minor soiling, boards very slightly bowed; good+. Text is in French. Hardcover.
A gorgeous album of aerial photos, featuring planes, air balloons, and more, and accompanied by an introduction with cloud formation details and diagrams. (#074130)             $100.00
21. Crane, Hart; Leonard Baskin engravings. Voyages: Six Poems from White Buildings. New York: Museum of Modern Art, 1957. Limited edition. Unpaginated. Dusty blue wraps, with title label to cover; illustrations are printed on handmade Amalfi paper and on Moriki and Mending Tissue. Small spot and light crease to cover; very good. Fold-out portfolio of matching dusty blue paper (quite sunned, and unevenly so) with title labels to front board and spine, and some edgewear. Sewn wraps.
The second of a series of limited editions published by MOMA. Designed, illustrated and printed by Leonard Baskin at the Gehenna Press. Copy 285/975, signed by Baskin. (#074267)                $100.00
22. Silas (aka Winsor McCay); Alfredo Castelli & Jeremy Taylor. The complete Dream of the Rarebit Fiend (1904-1913). Ulrich Merkl, 2007. First edition. ISBN: 9783000207518. pp. 464. Oblong 4to. Decorated boards and endpapers, red ribbon marker. Black and white and colour illustrations and photographs. Boards lightly rubbed, else very good. Includes DVD. Hardcover.
A lavish and extensive celebration of a comic strip ahead of its time, each episode of which presented the dreams of "some poor soul who had the misfortune of partaking of Welsh Rarebit (a melted cheese toast) before retiring, a decision that resulted in unusual and fantastic dreams". Accompanying the 369 episode reproductions is detailed information about the artist, the history of the comic strip, and additional images and articles. (#074125)                  $500.00
Terms of Sale: prices are in USD; applicable taxes extra; worldwide shipping at cost; images available.