The Greenfield Collection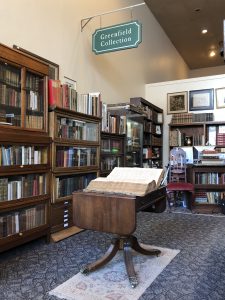 The Greenfield Collection at Bison Books consists of the entire inventory of Greenfield Books, acquired and integrated with our inventory during the summer of 2018.
Greenfield Books was established in Winnipeg in 1994, by Michael Park (1946-2017). Michael was a man of classical values, exacting standards and erudite scholarship. When he first entered bookselling in the 1970's, he traded paperbacks and textbooks; by the time of his sudden passing, he had elevated his business to be counted among the finest antiquarian bookstores in Canada; he traveled to book fairs all over North America, and was President of the Antiquarian Booksellers Association of Canada.
We hope to do justice to the books he left behind, and will endeavour to uphold the standards he set.
Following is a brief selection of highlights from the Greenfield Collection
HEARNE, Samuel. A JOURNEY FROM PRINCE OF WALE'S FORT IN HUDSON'S BAY, TO THE NORTHERN OCEAN. London: A. Strahan and T. Cadell, 1795. 1st edition. pp. v-xliv, 458. 4to. Bound in early 3/4 leather over black 'pebbled' buckram. The binding shows wear, scuffing and rubbing, but front joint splitting. The contents are intermittently foxed, or soiled; for example, pp. 56 to 94 show an old tide mark to the inside bottom margins. The map of the Coppermine River has edge-staining. The Plan of Moos River is more stained. Overall, in strong condition and decent shape but, due to the absence of at least one plate and, possibly, two maps, plus the missing four pages, we offer it with all faults, and priced accordingly. Hardcover.
First printed three years after Hearne's death in 1792, this account is taken from his manuscript and edited by John Douglas, Bishop of Salisbury. It contains a day-to-day record, with notes on natural history, of four expeditions (1769, 1770, 1771) northwest by land from Hudson's Bay. On the last trip, undertaken in 1771-1772, Hearne reached the Arctic Ocean at the mouth of the Coppermine River, becoming the first white man to travel overland from the Bay to the Arctic Ocean, and the first of his race to 'gaze upon the dreary expanse of the Arctic or Frozen Ocean from the northern shores of the Continent of America' (Sabin 31181). See also Streeter 3652, TPL 445, Waterston 19.The copies referenced in these bibliographies differ in their collation: the copy seen by Sabin has four maps and eight plates; TPL four plates and three maps; and Streeter four plates and five maps. Our copy has but three plates (all folding) and three folding maps (Coppermine River, Moos River, Slude River). It also lacks the first four pages (pp. i to iv) which includes the title page. (#GB12157)                    $2,000.00
CAMDEN, William / And Translated into English, with Additions and Improvements, by Edmund Gibson. BRITANNIA: or a Chorographical Description of Great Britain and Ireland, Together with the Adjacent Islands. London: James and John Knapton et al, ND (1722). Folio. Two large volumes, in original full leather bindings. Title pages are printed in red and black, with an elegant full-page copper engraving of Camden as the frontispiece of the first volume. There are 50 double-page maps of the English counties, Ireland, Scotland, and 'the Islands'; six of the maps are folding. There are also twelve large full-page engravings, and numerous smaller engravings in the text. There is a comprehensive index and the errata page is present. A previous owner has reinforced the hinges with linen-like binding tape. The boards are quite worn and rubbed, but a competent bookbinder could restore both bindings. The contents are remarkable clean, with only occasional foxing, and a few stained pages. The maps, by the cartographer Robert Morden, and which are usually removed and sold individually, are all in excellent condition. Overall, a good set. Hardcover.
William Camden (1551-1623) was an English antiquary and historian, who, during the reign of Queen Elizabeth, travelled throughout England collecting material for 'Britannia', which was first published in 1586. Initially written in Latin, it is a survey of the British islands; its archaeology, geography, institutions, monetary system and inhabitants, 'chiefly intended for the instruction of foreigners' (or so Gibson states in his Preface to this edition). It was first translated into English in 1610, probably under Camden's direction (see Ency. Brit. 11th, vol. V, p. 101). Gibson's revision was first published in 1695. Our set is the undated 'Second Edition' but, by comparing particulars with available bibliographical resources, we believe it was published in 1722. Printing and the Mind of Man, 101. (#GB2372)                   $5,000.00
KIPLING, Rudyard. CAPTAINS COURAGEOUS A Story of the Grand Banks. London,: Pearson's Magazine, 1896 to 1897. 1st edition. 85 pp. Slim 8vo. Handsomely bound in 3/4 reddish-brown niger morocco, t.e.g. The five parts are bound without any preliminary leaves, containing 85 pages from the magazine. The binding is by Sandorski and Sutcliffe, of London. The spine is in compartments with delicate gilt lettering and the date 1896-7 at bottom. The leather of the front board is a bit spotted, more so near the top than elsewhere, and the top of the hinge is rubbed. The boards are also slightly bumped. The front free endpaper shows the remains of stamp hinges where the former owner has hinged his bookplate and some auction notices of this book. There are four small spots to the rear endpaper, of no particular consequence. The contents are generally clean, if slightly edge-worn. Overall, the book is in very good condition, in a most attractive binding. Martindell 68. Leather Bound.
Written when Kipling was but 31, and not long married to the sister of his American agent, this is his only book to be set entirely in America. This unique item contains the December, 1896; and the January to April, 1897 parts of Pearson's Magazine which constituted the first appearance in print of Kipling's famous novella. The first book publication was by Macmillan (London), later in 1897, with 21 illustrations by I. W. Taber. The first American book publication was also in 1897 by The Century Co. (New York City). This true first printing also contains 16 illustrations by I. W. Taber, as well as an additional 21 illustrations by Fred T. Jane (the founder of 'Jane's Fighting Ships '), and two by Swain. (#GB28063)                 $5,000.00
ORSATO, Sertorio [Sertorii Vrsati]. MONUMENTA PATAVINA [Monvmenta Patavina] Collecta, digesta, explicata, suisque iconibus expressa. Padua, Italy: Paulum Frambottum, 1652. 1st edition. pp. [24], 352. With three unpaginated indices & errata page at end (30 pages). Tall 4to. This copy has been completely re-bound in 3/4 blue leather over matching blue cloth, with gilt rules to boards, and raised bands, gilt rules and gilt lettering to the spine. There is soiling to the preliminary pages, but the contents are remarkably clean and bright, with just occasional instances of foxing, general darkening to the page edges, and some rippling to the pages. The text, which is in Latin, is well illustrated with engravings of various monuments, headstones, and markers. Overall, in very good condition. Images available on request. Leather Bound.
Sertorio Orsato was a celebrated antiquary, historian, and poet. Born in Padua, Italy, in 1617, he taught natural philosophy at the University of Padua. Beginning in 1635, he published a number of scholarly books before his death in 1678. This is the first edition of this title. It was reprinted in the 1800s. (#GB28183)                    $1,500.00
[BROWNE, Martha Griffith] [Mattie Griffith]. AUTOBIOGRAPHY OF A FEMALE SLAVE. New York City: J. S. Redfield, 1857. 1st edition. pp. 401, ads. Small 8vo. Bound in original brown cloth with gilt spine lettering. Bds. heavily worn & bumped, with noticeable soiling. Rear hinge cracked, binding a bit sprung, ffep removed; still a good copy. Hardcover.
Martha Griffith Browne (also known as Mattie Griffith) was a white woman who, prior to her conversion to abolitionism, had owned slaves. She wrote sketches and poems for 'The National Anti-Slavery Standard', before writing this fictionalized slave narrative in 1856. 'Autobiography of a Female Slave' is one of several noteworthy antebellum novels about slavery that were written by abolitionist authors. In some cases these novels reflected the storytelling style and conventions of the slave narrative so convincingly that they were mistaken for actual autobiographies of former slaves. The effectiveness of these novels in representing slavery, and the point of view of slaves, made them useful weapons in the antislavery struggle. (See: 'Documenting the American South. North American Slave Narratives', University of North Carolina [Chapel Hill] – available online; also 'Black Slave Narratives', John F. Bayliss (ed.) Macmillan, 1970). The title has recently been reprinted a number of times. Although the copyright page shows the date of 1856, when the novel was written, it was not published until 1857. This is the first edition, and a very scarce title, in its original, unsophisticated, binding. (#GB30468)                     $1,950.00
SPRIGGE, Joshua. Anglia Rediviva; or, ENGLANDS RECOVERY. London, 1647. 1st edition. Pagination: [full page engraved armorial crest of Fare Fac (Fairfax)], [large folding engraving of Fairfax mounted showing placement of Parliamentary troops on battlefield], [title page], [blank], [ii-iv 'Epistle Dedicatory'], [blank], [vi-viii 'An Apologie'], [blank] [x-xiv 'To All True English-Men'], [blank], [xvi-xix 'The State of the Kingdome, when His Excellencie Sir Tho. Fairfax marched forth, May. 1645. Exhibited in Two Tables.'], [blank], [errata page], pp. 1-335, [i-iv Table of Contents]. Note: Between pp. 334/335 is a large folding 'Table of the Motion and Action of the Army under the Command of His Excellency Sir Thomas Fairfax, from April 15, 1645. To August 19, 1646.' Note: the Streeter map of the placement of troops is not present in this copy. Tall 4to. Professionally re-cased with new spine and endpapers. Original boards. Contents occasionally foxed, but o/w in vg condition. Leather Bound.
Joshua Sprigge (1618-1684) was educated at Oxford University. He became rector of the Church of St. Pancras before the outbreak of the English Civil War in 1642, at which time he became a retainer of Sir Thomas Fairfax (1612-1671), the general of the parliamentary army. After the war, he became a Fellow of All Saints College, Oxford, and appears to have opposed the execution of King Charles I. The title to this book continues' 'Being the History of the Motions, Actions, and Successes of the Army under the Immediate Conduct of His Excellency Sir Thomas Fairfax, Kt. Captain-General Of all the Parliament's Forces IN ENGLAND.' 'Compiled for the Publique good by Joshua Sprigge, M.A.' 'Printed by R.W. for John Partridge, and are to be sold at the Parot in Pauls Church-yard, and the Cock in Ludgate-streete. 1647.' (#GB31474)                   $5,000.00
DITTON, Humphry. A TREATISE OF PERSPECTIVE Demonstrative and Practical Illustrated with Copper Cutts. London: B. Tooke and D. Midwinter, 1712. 1st edition. Pagination: pp. xvi, 1-48, 49-50 absent but text continuous, 51-164, 167-168, 165-166, 171-172, 169-170, 6 plates, 173, [1]. Small 8vo. Recent professional re-bind in full decorated goatskin. Fold-out schematics within. Our copy of 'A Treatise of Perspective' is complete, with Errata page, although some of the latter pages are bound out of order. The last part of the book is 'An Appendix containing a brief Account of some Things of Use, in the Art of Perspective', and includes comments and suggestions on stage design, 'lights and shadows', 'pictures in pictures', etc. The last page of the book contains an advertisement. The book is dedicated to Francis Nicholson 'General of Her Majesty's Forces in North America'. On the blank page, on the reverse of the dedication page, a 19th century former owner has practiced his signature. There is a signature to the bottom margin of the title page. The text shows some foxing, mainly to the margins. The six folding plates are foxed and have been repaired by our conservator. Our master binder has hand-tooled a geometrical design from one of the plates on to the front board, and has sewn hand-made headbands on to the book. The book is now bound in full blue goatskin, with the spine in compartments: a very fine presentation. Hardcover.
Ditton (1675-1715) was a mathematician, and master of a new mathematical school at Christ's Hospital for which this book was written. With William Whiston he derived an impracticable scheme for the determination of longitude by the firing of a shell set to explode at a certain height. He published several other noted works including 'The General Laws of Nature and Motions' (London, 1705, a commentary on Newton's 'Principia'), and (with Whiston), 'A New Method for Discovering the Longitude both at Sea and Land….' (London, 1714). (#GB34350)            $2,500.00
VIGNE, G. T. TRAVELS IN MEXICO, SOUTH AMERICA, Etc., Etc. London: Wm. H. Allen & Co., 1863. 1st edition. pp. 374, 317. 8vo. Complete two volume set bound in publisher's brick-red cloth. Illustrated with, inter alia, two coloured stone lithographed frontispieces; one of the 'Chief of the Chippeways' and the other being a 'Sioux Chief'. The binding of vol. I is worn and soiled, with small pulls to the spine ends. The endpapers are tight, although the binding is sprung. Occasional foxing throughout. Vol. II is bumped but in better condition, with less soiling and the binding being tight. The folding map of South America has been proefsionally repaired. Hardcover.
First published in 1863, re-printed in 1865 and, in modern format, re-printed in 1963 (although WorldCat says 1973). Godfrey Thomas Vigne (1801-1863) attended Harrow and studied law at Lincoln's Inn. He visited the United States in 1831 and published an account of his observations the following year. In the same year he left for India, spending the next seven years travelling throughout Kashmir, Landak, and parts of Central Asia. He published his accounts of these travels in two books (1840 and 1842) which together give a valuable view of northern and western India immediately before the imposition of British control. Commencing in 1852, Vigne visited the West Indies, Mexico, and Nicaragua and passed northwards through New Orleans to New York City. He died in England in July, 1863, whilst completing the manuscript for this book. The publisher's Preface observes that Vigne was neither a professional author nor a commissioned tourist. [He] travelled for his own amusement, saw much, and was assisted in his observations by the possession of some knowledge of science (vol. XX, p. 309). A very scarce title, no complete sets currently being offered for sale, and none having recently come to auction. (#GB34785)             $1,500.00
HANWAY, Jonas. AN HISTORICAL ACCOUNT OF THE BRITISH TRADE OVER THE CASPIAN SEA: with the Author's Journal of Travels. London: T. Osborne et al, 1754. 4to. Complete two volume set freshly re-bound in finest bookcalf,Hanway's journal of travels 'from England through Russia into Persia; and back through Russia, Germany and Holland. To which are added the revolutions of Persia during the present century, with the particular history of the great usurper Nadir Kouli.' Pagination: volume I, pp. xxiv [pp. xxv-xxviii mis-bound at end of volume], 1-458 [pp. 459-460 mis-bound after pp. xxviii], [1] 'Explanation of the Copper-Plates in this Work', [1-8] Index; volume II, pp. xx, [plate], pp. [1]-460, [1-14] Index, [1-4] 'An Explanation of Several Foreign Words in the Two Volumes', [1-2] 'Books Printed for A. Millar in the Strand'. All plates and maps present, except that the folding map of the Russian Embassy to Persia, called for at p. 237 of volume I is mis-bound at p. 237 of volume II. All others maps and plates placed as stipulated in the 'Explanation' (see above). Nine folding maps, 19 full-page copper engraved plates, and 12 engraved vignettes. Marginal notations in a very early hand ('f' for 's') to first 115 pages, and from pp. 454 to 460 of volume I, ditto for pp. 23 to 50 of volume II. Marginal darkening to pp. 130 to 180 of volume II and last quarter of text quite foxed. Crease to pp. 197 to 198. Small stain to page 50 of volume I. Beautifully re-bound with blind-ruled lines and gilt florettes to boards, the spines in compartments with morocco spine labels; both volumes bound in period style. New hand-made marbled endpapers. A splendid set. Note: the title of volume II is printed as 'The Revolutions of Persia: Containing the Reign of Shah Sultan Hussein; the Invasion of the Afghans'. Hardcover.
First published in 1753, this is the Second Edition 'revised and corrected'. Nerhood 88. (#GB35474)                    $3,250.00
LA CITTA DI ROMA Ovvero Breve Descrizione di Questa Superba Citta. Roma (Rome, Italy): Venanzio Monaldini et al, 1779. pp. 444.12mo. Bound in original boards; spine strengthened with japon paper. In the original boards, now well-worn. The leather spine had a vertical crack, from head to foot, but this has now been expertly repaired and covered over with with matching japon paper, and a paper spine label. The front hinge was cracked, and the endpapers were beyond salvation, so the hinge has been repaired and the endpapers replaced. The comprehensive index at the end of the book has some early ink interlineations and annotations. The text is otherwise remarkably clean and the folding maps are really quite nice. Overall, a good, to good plus, copy of this rather rare work. Leather Bound.
'Con due piante generali, e quelle de'suoi quattordici Rioni, incisi in rame per comodo de'Forestieri.' Two volumes ('parte') in one. The text is in Italian. No author identified. WorldCat has two distinct listings for this title: one showing the author as Venanzio Monaldini, an Italian, and the other as Dominique Magnan, a Frenchman. Monaldini was a publisher and bookseller active in Rome during the 18th and early 19th centuries. He is shown as one of three co-publishers of this title. Magnan (1731-1796) is not. He is, however, known to be the author of several other similar works, published between 1765 to 1777. One reference describes him as a 'numismatic archaeologist'. However, the edition with Magnan as the author is usually described as being four volumes in one large quarto volume, with 44 plates and maps. Our title has 16 finely etched copperplate folding maps, but no plates. We suspect that our copy is a pirated edition of Magnan's work. (#GB36450)              $1,500.00
Bremault, Lise (Ed.); . LE MONTAGNARD. Saint Leon, MB: Comite Culturel de St. Leon, 1981 to 1997. An incomplete run of 136 issues of this local history journal. This run commences with Vol. II, no. 6 (November, 1981) and concludes with vol. XVII, no. 8 (January, 1997). Most issues carry the name and address of the recipient, along with postage stamps stuck (generally) to the front cover. Each issue contains between 12 and 18 pages. All issues show light wear from reading, but are otherwise clean and in very good condition. A complete list of dates, and numbers, can be made available upon request. Sold as a lot, only. Stapled Wraps.
Each mimeographed issue is printed on 8 1/2 x 11′ white paper and stapled at the corner. The text is in French. (#GB36458)                 $1,150.00
[Edward Gibbon]. MR. GIBBON'S HISTORY OF THE DECLINE AND FALL OF THE ROMAN EMPIRE, ABRIDGED. In Two volumes. London: A. Strahan and T. Cadell, 1790. Pagination: volume I, [blank 2], [vii]-xi, blank, 569, [blank 5]; volume II, [blank 2], [v]-xi, blank, 562, [blank 5]. 8vo. Complete two volume set, bound in full period calf. Both volumes show light wear. The joints are tender, but the contents clean and tight. A good plus set. Leather Bound.
The Oxford Companion to English Literature calls 'The History of the Decline and Fall of the Roman Empire' the most celebrated historical work in English literature (p. 261). Gibbon (1727-1794) formed his plan of the 'History' during a tour of Italy in 1764-65. The first volume was issued in 1776 (in quarto size), followed by volumes II and III in 1781, and the last three volumes in 1788. The work covers the period from the age of Trajan and the Antoines to the taking of Constantinople by the Turks in 1453. The work was abridged, and published in two volumes, in 1789 and again in 1790, this latter printing being done by A. Strahan and T. Cadell. Both printings are virtually identical, except that there is supposedly a reference in the 'Advertisement' following the title page of volume I, stating that the abridgement has been carried out 'for the youthful mind'. Our set contains a somewhat different statement: '…the author flatters himself that what remains will be found instructive to the youthful, and interesting to the curious, mind'. It is tempting to conjecture that the reference to the 'author' can mean none other than Gibbon himself (he was still alive) and not to one of the editors to whom this abridgement is sometimes attributed (e.g. J. B. Bury, Charles Hereford, Alexander Adams, or John Adams). If that is the case, then it would mean this abridgement was authorized, if not carried out, by Gibbon himself. See ESTC N10232, Norton 101, Lowndes 885, WorldCat (OCLC) 79996470. (#GB37713)                       $1,250.00
DICKENS, Charles. THE POSTHUMOUS PAPERS OF THE PICKWICK CLUB. London: Chapman and Hall, 1837. 1st edition. pp. xiv, 609. Thick 8vo. All 43 plates are present, as described in Smith, 'Charles Dickens in the Original Cloth', although five of the plates are placed one page earlier than called for, and one plate is placed ten pages later. Seven of the plates are by Seymour, two by Buss, and the remainder by Phiz. Vignette title page plate shows 'S. Veller' and 'Phiz fecit'. As is always the case with a bound first edition of this title, each of the plates is a 'mixed bag' of first state, first plate, second plate etc. varieties of the plates. Our copy contains at least 33 'matches' to the status of plates found in most first edition copies, as stipulated by Smith; but it also contains 10 plates where the points are different, the majority of the differences suggesting a first plate, first state status. See also Eckel, 'Bibliography of the Original Writings of Charles Dickens; Fitzgerald, 'The History of Pickwick'; Hatton and Cleaver, 'Bibliography of the Periodical Works of Charles Dickens'; Clendening, 'A Handbook to Pickwick Papers'. The contents of our copy show foxing, and there are a few very small (less than one inch) closed tears to the margins. The binding is tight and the contents are untrimmed. Overall, a very good copy with a highly desirable number of first state 'points'. Leather Bound.
Recent rebind in full brown leather with gilt rules to spine and red morocco spine label. A most handsome presentation. (#GB38308)                 $6,000.00
JOHNSON, Dr. Samuel [writing anonymously]. THE PRINCE OF ABISSINIA A Tale in Two Volumes. London: R. & J. Dodsley, W. Johnston, 1759. 12mo. Both volumes have been freshly restored and re-bound in full book calf with five raised bands to each spine. Vol. II contains final blank leaf (M4). The contents are clean throughout with only the very occasional spot of foxing. Overall, a magnificent set. Hardcover.
Leaf A2, vol. II, reads 'Contents of the second volume'. 'Indiscerpible' p. 161, vol. II; pp. viii, 159; viii, 165. This is the second edition of the work now universally known as 'Rasselas', and it is almost in every respect identical with the extremely rare first edition issued a few weeks before it, on April 19, 1759. It is a philosophical novella which describes the life of Prince Rasselas and Nekayah, his sister, who are kept in a place called the Happy Valley in the land of Abyssinia. The Valley is a place free of problems, where any desire is quickly satisfied. The constant pleasure, however, does not lead to satisfaction; and, with the help of a philosopher named Imlac, Rasselas escapes and explores the world to witnes how all aspects of society and life in the outside world are filled with suffering. They return to Abyssinia, but do not wish to return to the state of constantly fulfilled pleasures found in the Happy Valley. 'Rasselas' was written during the evenings of one week, in order for Johnson to raise enough money to bury his mother, and to pay some of her debts. It was published anonymously, and Boswell says of it that it contains 'all the force and beauty of which the English language is capable'. Our little set contains the Chippendale bookplate of John Buller, of Morval, and the signature of Anne Lennon, his wife (c. 1770), the predecessors of Sir Redvers Buller. ESTC T57339 and T139510. (#GB38478)                 $1,850.00
DICKENS, Charles. ALL THE YEAR ROUND. A Weekly Journal / Volume XIX from Dec. 14, 1867, to June 6, 1868 / Volume XX from June 13 to Nov. 28, 1868. London: The Author & Chapman & Hall, 1868. 1st edition. Pagination: Volume XIX, pp. iv, 73-620; volume XX, pp. [iv], 596; with a separate Table of Contents for each volume. Royal 8vo. Nicely bound in contemporary 3/4 leather over 'pebbled' cloth. The binding is rubbed at the extremities and across the spine. The front endpapers have separated but the binding is tight. Occasional marginal foxing but generally the contents are very clean. Overall, a tight copy in good, to good plus, condition. Hardcover.
'All the Year Round' was a British weekly literary magazine founded, owned and edited by Charles Dickens and, after the author's death in June, 1870, by his son Charles Dickens (Jr.). It continued publishing until 1895. Many famous novels were serialized in its pages, including Dicken's 'A Tale of Two Cities' and 'Great Expectations', and 'The Woman in White' and 'The Moonstone' by Wilkie Collins. Our offering is the last volume in the 'old series' (although it was not officially designated as such) before Dickens instituted a 'New Series', the announcement of which is contained on the last page of this volume. Also contained within this volume is the first appearance in print of what T. S. Eliot called 'the first and greatest of English detective novels', 'The Moonstone' by Wilkie Collins (See issue of January 4, 1868, for the first installment and the issue of August 8, 1868, for the last installment. It was first published in book form, later in the year, by Tinsley Brothers, London). (#GB39169)            $1,250.00
LAYTON, Irving. THE LOVE POEMS OF IRVING LAYTON With Five Original Lithographs by Graham Coughtry. Toronto: Canadian Fine Editions, 1978. p. 101. Large 4to. Bound in full brown suede, with the title stamped in gilt to the front board, over and under a smaller reproduction of one of the artist's lithographs, which has been tabbed to the board. All edges gilt. Each page of the text printed on an uncut quarto sheet. Each of the five tipped-in lithographs are hand-numbered and signed by the artist. Spine shows a bit of sunning. Small (one inch) 'ghost' of tape (?) to lower left of rear board, causing darkening to the suede. Pastedown to front board shows a touch of soiling. Binding otherwise tight and in very good condition. Contents pristine. A magnificent copy. Leather Bound.
Printed in 1978 in three editions: an unremarkable trade edition, a limited edition of two hundred copies, signed by author and artist, and bound in quarter suede and brown cloth, and this extraordinary – very special – edition, limited to thirty copies of which this is copy number 23, signed by both Layton and Coughtry at the colophon. (#GB40767)              $2,500.00
HAENFFLER, M. Johann [Johann Hanflers]. DER VERSCHMACHTENDEN SEELEN, HERTZENS TROST und THEIL: Aus den Sonn-und Fest-Tags-Evangelien, Durchs gantze Jahr [etc.]. Frankfurt, Germany: Friedrich Eichorns., ND [1692]. pp. 1072, [16]. Thick 4to. Bound in period full leather over wooden boards. Title page in red and black letters. The text is in the Suelterlin form of German, and the pagination is continuous to page 1,072, when follows sixteen pages of unnumbered text, ending abruptly, thus lacking following pages, the quantity unknown. The only copy of this title, shown on WorldCat, is being held by the university library in Halle / Saale, Germany, and indicates a pagination of [4], [588]. Our copy is bound in full brown leather, with evidence of some very early repairs. Both the binding, and the edges of the pages, show considerable wear. Preliminary and end pages, in particular, are chipped at edges, and somewhat darkened. Front blanks, and inside rear board contain hand-written notes, in various early hands, describing what appears to be a family genealogy. The binding is weak but intact, and the text may be read without undue trepidation. A very scarce work. Leather Bound.
A German book of days, and prayers. The title translates as: 'To the Sweltering Souls / Hearts Consolation and part/ out of the [?] and / festive days gospels / Through the entire year / and several sayings (or proverbs) for/ the High Festive Days and Afternoons / Next to two preachings at the End / for Preparation [?] Holy Communion and blissful death / introduced / In which everything is briefly explained / and directly to be used for edification'. (#GB40798)             $1,250.00
COOK, Captain James [Vols. I and II] / Captain James King [Vol. III] / [Vol. IV – plate volume]. A VOYAGE OF DISCOVERY to the PACIFIC OCEAN. London: W. and A. Strahan, 1784. 1st edition. 4to. Complete four volume set of the first edition. Although in the original boards, this set requires re-binding, as the boards are detached. Volume I lacks The List of Plates (pp. xci to xcvi – however, included in the fourth volume – see below), but is otherwise complete, and all seven maps on six plates (four folding), and one folding plate, are present. Volume II contains all eleven maps or views (six folding). Volume III contains an early worm hole to the lower outside corner of the first few pages, not affecting text. All six maps and plates are present (two folding), plus the folding table at the end, but no advertising leaf. The fourth volume contains 61 engravings of people, places, and animals visited by Capt. Cook in what is now Hawaii (described as the Sandwich Islands), Western British Columbia, and Alaska. Forty of the plates are folding; 21 are large single-page plates. The volume begins with 'The List of Plates', and is numbered pages xci to xcvi (see above). Some of the illustrations are quite foxed, most less so. This volume lacks three charts (nos. I and VI from vol. I, and no. XXXVI from vol. II). There is foxing (off-setting, really) on the pages facing the plates and charts, and occasional marginal foxing to the text, but the latter is hardly untoward. Overall, the contents remain tightly-bound and in remarkably good condition. This set priced with re-binding in mind, or we can arrange for it to be carried out according to your desires. Hardcover.
Beddie, Bibliography of Captain James Cook (BCJC) 1543, Streeter 3478. Sabin 16250, Howes 729a, Sotheby's London sale 11/21/91 lot #377 (three vols only). (#GB42258)                 $11,500.00
CONAN DOYLE, Arthur; [George Newnes, ed.]. THE ADVENTURES OF SHERLOCK HOLMES / THE STRAND MAGAZINE An Illustrated Monthly / Volumes II, III, V, VI. London: George Newnes, 1891 to 1894. 1st edition. Royal 8vo. Four bound volumes of six monthly issues in each volume. Uniformly bound in 3/4 leather over maroon 'pebbled' buckram with gilt rules to the spines. Each volume shows rubbing to the leather. Some hinges tender, but binding tight. Spine label of volume V quite rubbed. Overall, a very nice set. Hardcover.
Conan Doyle introduced the character of Sherlock Holmes to the reading public in 1887, with the publication of the novel 'A Study in Scarlet' and, later, his second novel, 'The Sign of the Four'. The first Sherlock Holmes short story, 'A Scandal in Bohemia', was not published until July, 1891, in volume II of The Strand Magazine. It was the first of twelve stories which ran in the magazine until June, 1892, and which were later combined and published in one book entitled 'The Adventures of Sherlock Holmes', published by Newnes in October, 1892 (see G&G A10). Our offering is four bound volumes of The Strand Magazine, containing the first appearance in print of 23 of the first 24 of the Sherlock Holmes 'adventure' stories (see G&G, pp. 54-58) before the 'great hiatus', i.e. the period between the 'killing off' of Holmes in 'The Adventure of the Final problem', and his return in 1903 with the publication of 'The Adventure of the Empty House'. Volume II contains adventures one through six; volume III seven through twelve; volume V fourteen through nineteen, and volume VI twenty through twenty-four. All that is lacking is the single story ('The Adventure of Silver Blaze') contained in volume IV. Each story is illustrated by Sidney Paget. In addition to the Sherlock Holmes adventures, each volume contains many other original stories by famous authors. (#GB42643)                $1,250.00
WHITE, Patrick. HAPPY VALLEY. New York City: Viking Press, 1940. 1st edition. pp. 317. 8vo. Bound in original woven black cloth. No dust jacket. Front board very sl. bowed. Spine label faded with small chip. Contents unmarked, binding tight. Good plus condition. Hardcover.
Patrick White (1912-1990) was an English-born Australian writer who is widely regarded as one of the most important English language novelists of the 20th century. From 1935, until his death, he published twelve novels, three short story collections and eight plays. In 1973, he was awarded the Nobel Prize for Literature, the first Australian to win that prize.'Happy Valley' is the author's first novel, first published by George G. Harrap (London) in 1939. Our offering is the first American edition. 'Happy Valley' won the 1941 Australian Literature Society Gold Medal. White would not allow it to be re-published during his lifetime, as he feared an action for defamation might be brought by the descendants of some of the characters described in the book. A new printing did not appear until 2012, long after his death. (#GB42657)                   $1,250.00
[Winnipeg Daily Times]. WINNIPEG DAILY TIMES [A bound volume containing all daily issues for the period January 4, 1885, to July 30, 1885]. Winnipeg, MB.: Winnipeg Daily Times, 1885. Elephant folio. One of Winnipeg's four local newspapers at the time (the others being the Manitoba Free Press, the Winnipeg Daily Sun, and the Winnipeg Siftings). It was published daily (except Sunday) by the Times Printing and Publishing Company, commencing April 12, 1879 and concluding July 30, 1885. In its final year, the publisher claimed it had the largest circulation of any newspaper in Manitoba. Note: copies of this newspaper are not archived in the website 'newspaperarchivedotcom'. Microfilmed copies are available for reference at the Millenium Library in Winnipeg, at Queen's University, Kingston, Ontario, and at the Amon Carter Museum of American Art in Fort Worth, Texas. Microfilmed copies can be ordered from the Canadian Library Association. Each issue is complete in itself and measures 51 x 67 cm, the text being printed in eight columns on both sides of the page. The historical significance of this archive can hardly be overestimated, as it contains a day-by-day account of the the Northwest Rebellion, nominally led by Louis Riel, and the subsequent capture and trial of the rebel leader. The daily dispatches from Regina, where Riel's trial took place, are detailed and frequently quote extensively from actual testimony at the trial, including most of Riel's frequent outbursts and interjections. They are the best eye witness account we have of what actually took place at what was clearly one of the most historic trials in Canadian history. The binding holding the newspapers is now broken, but the internal binding is intact. A few issues have large closed tears, else in very good condition.
This is the original newspaper – it is not a reprint or copy – and it contains all the pages as printed for each issue. (#GB42682)                 $12,500.00
BRINKLEY, Captain F. [Frank Brinkley, Francis Brinkley]. JAPAN Described and Illustrated by the Japanese / Written by Eminent Japanese Authorities and Scholars Complete ten-volume set. Boston, MA: J. B. Millet Company, 1897. 1st edition. pp. 382. Folio. Bound in brightly coloured floral brocaded silk, with varying patterns, and paper label to front boards. Bound in the Japanese style. Each of the large volumes contains numerous black-and-white photos, and three delicately-coloured coloured albumen photographs by Tamamura Kozaburo, each with explanatory tissue guard (thirty in total). There are also five collotype flower plates (by K. Ogawa). Condition varies as amongst the volumes. Five are in very good condition; five have a foredge stain affecting extreme outer margin of pages. The binding of volume III is very soiled. All bindings tight. Some albumen photos have lightened. The flower colour plates still quite vivid. Hardcover.
This set, the Yedo Edition, is designated no. 482 of only 1,000 issued, and presents a stunning portrayal of Japanese life, customs, cities, and the countryside. The editor of this set, Francis Brinkley (1841-1912), was born in Ireland and educated at Trinity College, before moving on to a military career beginning with his accepance at the Royal Military College, Woolwich, where he trained as an artillery officer. After graduation, he was invited by his cousin, then the Governor of Hong Kong, to serve as his aide-de-camp and adjutant. In 1867 he was attached to the British-Japanese Legation and, still being an officer in the Royal Artillery, served as assistant military attache to the Japanese Embassy. In 1871, he resigned his commission and began studying the Japanese language and culture in earnest. Eventually, he married a Japanese woman, with whom he had three children. He also owned and edited the 'Japan Mail' which became the most influential English language newspaper in the far East. (#GB42808)                 $2,500.00
PAR Mr. C. *** [probably Zacherie Chatelain] / Avec des Dissertations sur l'Histoire de chaque Etat. Par Mr. Guedeville. ATLAS HISTORIQUE, or Nouvelle Introduction a l'Histoire, a la Chronologie & a la Geographie Ancienne & Moderne; Amsterdam.: Zacherie Chatelain,, 1737. Tall folio. Bound in full contemporary calf, with seven raised bands and the spine ornamented in gilt. The binding shows minor wear but is otherwise strong and the contents are in remarkable condition. There is an elaborate engraved plate preceding the formal title page (printed in red and black). Leather Bound.
Measures 47 x 29.5 cms. Zacherie Chatelain (d.1723) was the father of Henri Abraham (1684-1743) and Zacherie Junior (1690-1754). They worked as a partnership publishing this atlas under several different Chatelain imprints, depending on the Chatelain family partnerships at the time of publication. The original atlas was published in seven volumes between 1705 and 1720, with a second edition appearing in 1732. The maps were accompanied by information pertaining to cosmography, geography, history, chronology, genealogy, topography, heraldry, and costume of the world. The maps in the Atlas Historique were based on those of the French cartographer Guillaume De L'Isle, but were presented by the Chatelains in an encyclopedic format. The text is in French and is printed in two columns on the page with maps and other illustrations interspersed. Each map and table is numbered consecutively (see MapHist dot com). Our offering is described as 'Tome II, Seconde Partie, ou Tome III' of the 'Nouvelle Edition' which has been 'Revue, corrigee, & considerablement augumentee'. It covers Great Britain, Ireland, Switzerland, Savoy, Lorraine, and the Republic of Venice. It contains 26 folding maps, and ten genealogical tables or charts. (#GB42889)                     $5,000.00
DE SAINT-EXUPERY, Antoine. THE LITTLE PRINCE. New York City: Reynal & Hitchcock, 1943. First edition. pp. 91. Larger 8vo. The dust jacket is age-toned, with a few minor scrapes to the front and rear panels. The cloth is exceptionally clean. Overall, a near fine copy in a good plus dust jacket. Hardcover.
'The Little Prince' is a novella and the most famous work of the French aristocrat, writer, poet and pioneering aviator Antoine de Saint-Exupery (1900-1944). The novella is both the most-read and most-translated book in the French language and has been translated into more than 250 languages and dialects. Annual sales still top two million copies with past sales totaling over 140 million copies worldwide. It is one of the best-selling books ever published. After the outbreak of the Second World War, Saint-Exupery was exiled to North America. In the midst of personal upheavals and failing health, he produced almost half of the writings for which he would be remembered, including this tender tale of loneliness, friendship, love, and loss, in the form of a young alien prince fallen to Earth. The first printing was in 1943 by Reynal & Hitchcock, Inc. whose offices were, at that date, located at 386 Fourth Avenue, New York City, and it preceded the first French edition by two years. The dust jacket should show the price of $2.00 and the rose should appear on page 27 and face left. Later Harcourt printings had the rose facing right and on page 28. The colophon should have five lines, all in italics. The cloth should be salmon in color with red lettering (later printings had black lettering). All of these points exist in our copy. (#GB43203)                    $4,000.00
WEINTRAUB, Sally / Prologo de Ernesto B. Rodriguez / Poema de Francisco Tomat-Guido. CARTAS DE PIEL Xilografias de Sally Weintraub. Buenos Aires, Argentina: Francisco A. Colombo, 1966. 1st printing. Folio. Each print measures approximately 41 x 28.5 cm on stiff Dutch paper. The very bottom edge of the prints show slight soiling and a little creasing; otherwise each is in excellent condition. The stiff card folder is quite worn and soiled and the folds of it have been reinforced with clear tape. The other inserted material shows slight wear but, with the exception of the photo page (showing a young Weintraub and the poet Tomat-Guido), which has a stain across the bottom edge, everything else is unmarked. Portfolio.
The text is in English and Spanish. The English translation of the poem is by Celia Pschero. Weintraub was born in 1931 in La Pampa, Argentina, but now lives and works in Spain. She had a major showing of her work at The Agora Gallery in November, 2014, in New York City. She is the recipient of numerous awards and honors. A list of her exhibitions and collections, from 1955 to 1966, is reproduced in this portfolio. Further information about the artist may be found at her website: sallyweintraub(dot)com. 'Letters of Skin' is the name the artist gives to her five xilographies [sic] (i.e., xylography or woodblock print). 'Her five xilographies represent the fundamental human reality in its lyric, symbolic and erotic meaning; reality which can be obtained in art much more perfectly than in the world' (from the Prologue). The five woodblock prints in this portfolio are numbered, and the limitation number (44/300) and year of production (1966) are individually designated by hand in pencil. In addition, Weintruab has signed her name in ink below the colophon. (#GB43583)                      $1,250.00
CHERRY-GARRARD, Apsley. THE WORST JOURNEY IN THE WORLD Antarctic 1910-1913. London: Constable and Company, 1922. 1st edition. Pagination: lxiv, 300, [4]; viii, 301-585, [blank leaf]. 8vo. Two volume set in publisher's original blue-grey cloth binding. The outline of the bookplate has offset to the front free endpaper, which is now discoloured. On the front free endpaper of volume II is an ink inscription: 'Father / with best love / Mardee (?) & Vivianj / Xmas 1922'. The spine of volume I is quite sunned and the front board is a bit bowed. Boards show light shelf wear. Binding still tight and contents unmarked. Vol. II spine not sunned and gilt lettering bright. Foredge of text block shows age spotting with occasional spots to extreme outer margins of text. Binding tight and no internal markings of former owner. Hardcover.
Printed in Great Britain by R. & R. Clarke, Edinburgh. Note: we bought these volumes as a set, but due to the presence of a bookplate in one and an inscription in the other, plus the sunning to one spine and not the other, we believe that this is a 'made-up' set. Notwithstanding, the bindings match and all plates and maps are present and placed as stipulated. This set is described in Rosove 71.A2, who indicates that it is 'significantly scarcer than the previous' [first listed printing]. See also Bonhams March 30, 2012 catalogue lot 117, Spence 278. 'Being an account of Scott's last Antarctic expedition 1910-1913, especially of the winter, polar, and search journeys; with the diaries of those who took part, panoramic and other illustrations and sketch maps by the late Dr. Edward A. Wilson and others.' Both volumes bound in woven blue-grey cloth with gilt lettering. Armorial bookplate in volume I of H. Smith Turberville (a lion rampant with the motto 'Dum Spiro Spero' ['While I breathe I hope' – also the motto of the State of South Carolina] on an encircling belt). (#GB43978)            $2,250.00
CHERRY-GARRARD, Apsley. THE WORST JOURNEY IN THE WORLD Antarctic 1910-1913. New York City: George H. Doran Company, 1922. 1st edition. Pagination: lxiv, 300, [4]; viii, 301-585, [blank leaf]. 8vo. Two volume set in publisher's original binding. Both volumes bound in the same manner as the Constable first printing, i.e. blue-grey papered boards with paper-labeled linen spines. The blue-grey endpapers do not appear original, but consistent with the original endpapers. The paper spine labels are chipped, more so to volume I, but are quite legible. Spines darkened. Light discoloration to edges of boards, with some edge-rubbing. Frontispiece tissue guard present in both volumes. Bottom edge of text block of volume II scored, but with no significant affect to contents. Binding tight and no internal markings of former owner. Pages bright and unmarked. Similar collation to the Constable printing, but without the ten panoramas. All plates and maps are present and placed as stipulated. Rosove 71.C1, not in Spence. Hardcover.
Printed in Great Britain by R. & R. Clarke, Edinburgh. 'Being an account of Scott's last Antarctic expedition 1910-1913, especially of the winter, polar, and search journeys; with the diaries of those who took part, panoramic and other illustrations and sketch maps by the late Dr. Edward A. Wilson and others.' (#GB43979)             $1,500.00
COOK, James, Commander of the Resolution. A VOYAGE TOWARDS THE SOUTH POLE, AND ROUND THE WORLD. Performed by Her Majesty's Ships the Resolution and Adventure [1772-1775]. London: W. Strahan and T. Cadell, 1777. pp. xl, 378.,4to,,A recently re-bound volume I only, of a two volume set,The first volume (of two) of the second edition, printed in the same year as the first, of Cook's second voyage, made in the years 1772 to 1775. Shortly after his return from his first voyage (1768-1771), Cook was promoted to the rank of commander and, in 1772, was directed to lead another scientific expedition on behalf of the Royal Society, ostensibly to search for the mythical land of Terra Australis. Although, on his first voyage, he had charted almost the entire eastern coastline of Australia, it was still believed that Terra Australis lay further south. Cook commanded HMS Resolution on this voyage, and Tobia Furneaux was in charge of the HMS Adventure. Cook's expedition circumnavigated the globe at an extreme southern latitude, becoming one of the first vessels to cross the Antarctic Circle. He also used a copy of John Harrison's H4 marine chronometer, which enabled Cook to calculate his longitudinal position with much greater accuracy. This copy has recently been professionally re-bound in full black cloth with morocco spine labels. The frontispiece of Cook, the title page and the famous large folding 'Chart of the Southern Hemisphere' have been professionally cleaned and repaired. All other folding charts and views have been properly re-folded with minor repairs. Contents show some foxing with off-setting from plates and 'ghosting' from folded charts etc. This volume collated and all plates etc. present. See Beddie, Bibliography of Captain James Cook 1217, Sabin 16245 and Rosove 77. A2 who notes that it contains a new notation concerning plate XXIV. Hardcover.
'In which is included Captain Furneaux's Narrative of his Proceedings in the Adventure during the Separation of the Ships' (#GB43980)                   $2,500.00
DAVIS, John King. WITH THE 'AURORA' IN THE ANTARCTIC 1911-1914. London: Andrew Melrose, Ltd., ND (1919). 1st edition. pp. xxi, 183.,Royal 8vo,,,Davis (1884-1967) was an English-born Australian explorer, navigator and one of the most experienced Antarctic seamen of the heroic era. King and the Australian explorer Douglas Mawson, became friends during Shackleton's 1907-1909 expedition and Mawson later recruited Davis to be captain of the 'Aurora' on the 1911-1914 Australian Antarctic Expedition. This volume contains Davis's account, with a history of the ship from its construction in 1876. Much of the expedition narrative consists of brief entries by date, different than Davis's log, later published as 'Trial by Ice' in 1999 (see Rosove p. 97). Our offering is an exceedingly scarce copy of the first edition (Rosove 87.A1.b), not only because it is a variant binding (described by Rosove as 'far scarcer than the primary one'), but because it carries with it the publisher's original dust jacket. It is bound in orange cloth with black stamped lettering and a stamped design of the 'Aurora' to the front board. The spine lettering is in gilt. The front board is a bit bowed and the extremities of both boards show light wear. The cloth is remarkably clean, although the foredge of the text block shows some foxing. There is a former owner's unobtrusive name and date to the front free endpaper. The frontispiece tissue guard is present and quite intact, although the top inch of the gutter of the title page is torn. The plate facing page 108 is slightly split at the gutter. The dust jacket has been laminated. It is intact, but shows creasing, edge rubbing and some small loss to the spine ends. Hardcover.
All plates are present as is the folding map placed at the end of the book. (#GB44086)                 $2,500.00
WILSON, Rev. Edward F. THE OJEBWAY LANGUAGE: A Manual for Missionaries and Others Employed among the Ojebway Indians / In Three Parts: Part I : The Grammar. Part II: Dialogue and Exercises. Part III: The Dictionary. Toronto: S. P. C. K., 1874. 1st edition. pp. v, 412. Square 12mo. Bound in original black cloth with lettering embossed in blind. TThe title is embossed in blind on the front board. The cloth is chipped but with no major defects. The spine has been very skillfully re-backed (the repair is virtually unnoticable) and the tender hinges have been professionally repaired. There is an early ink signature on the front free endpaper. There are a few spots of foxing to the margins, otherwise the contents are in exceptionally clean condition. A very nice copy of a scarce text in its original format. Hardcover.
he Reverend Edward Francis Wilson (1844-1915) was a prominent Anglican missionary and clergyman who emigrated from England to Canada in 1865 with the intention of becoming a farmer. However, he decided to undertake religious studies instead, and attended Huron College, in London, Ontario. He was ordained a deacon in 1867 and joined the Anglican Church Missionary Society serving indigenous communities in Sarnia, Sault Ste. Marie and surrounding areas, eventually becoming principal of Shingwauk Indian Residential School, where he served from 1873 to 1892. In preparing this Grammar, Rev. Wilson relied on an earlier French language Grammar. He notes, in the Introduction, the occasional similarities between the Ojebway and Hebrew languages. This is the first (and, we believe, the only) edition published on behalf of The Venerable Society for Promoting Christian Knowledge. (#GB44561)               $1,250.00
BURTON, Captain Sir R. F. / Reprinted from the Orignal Edition and Edited by Leonard C. Smithers. THE BOOK OF THE THOUSAND NIGHTS AND A NIGHT. London: H. S. Nichols Ltd., 1897. Royal 8vo. Complete 12 volume set handsomely bound in 3/4 burgundy leather. Each of the volumes in this set has the name of the society stamped at the bottom of the spine and is 'Illustrated by a Series of seventy-one original illustrations reproduced from the Original Pictures in Oils specially painted by Albert Letchford'. Each engraving carries the original printed tissue-guard. Each book measures 26 x 18 cms and the 'pebbled' leather is bound over woven green cloth with the top edge gilt. The endpapers are marbled and each front endpaper carries the attractive bookplate of J. H. Burton, which depicts a schooner with all sails set, and is bordered by mermaids. The bookplate is initialled in the plate 'H.N.' (being Harold Nelson, the famed British bookplate designer, artist and engraver). The extremities of each volume do show some rubbing, but it is not untoward. The hinges are tight and the contents are in exceptionally good condition – in fact, the volumes appear never to have been read. Hardcover.
More colloquially known as 'The Arabian Nights', this magnificant work was first published in 1885 by Burton through the private Kamashastra Society in order to evade the likely consequences of publishing commercially what was perceived at the time to be pornography. (#GB44599)                $1,250.00
CONAN DOYLE, Arthur. THE LOST WORLD. London: George Newnes Ltd., 1912. 8vo. Two volume set bound in maroon 'pebbled' buckram with gilt rules. The stitching of both volumes has been stressed a bit, as from being opened carelessly, but there are no loose pages, or signatures. Both volumes show minor rubbing to extremities. Contents sl. shaken, but hinges & joints tight. Overall, very good condition. Hardcover.
This is the complete, first appearance in print, of the famous fantasy novel, wherein the character of Prof. George Challenger is first introduced. Published in monthly parts, as the leader in the Strand Magazine, by George Newnes, Ltd., London, commencing in April, 1912, and then in consecutive monthly parts until November, 1912. The extraordinary illustrations are by Harry Rountree and the 'late Maple White' [actually ACD, using his own faked photos]. Some of these illustrations are unique to this issue. The first book edition appeared in October of the same year under the imprint of British publisher Hodder & Stoughton. A General Index precedes volume I. Both volumes have individual monthly Tables of Contents. The first volume contains pp. 363 to 720 of volume XLIII, and pp. 1 to 120 of volume XLIV. The second volume contains pp. 123 to 600 of volume XLIV. G&G A34. The complete text of each issue is included; thus many other notable stories are also set out: by P. G. Wodehouse, Morley Roberts, 'Ouida', E. Phillips Oppenheim and others. (#GB460)                     $1,225.00